Kingfishers 2018-2019
Our topic for the first term was Superheroes. We read the story of Supertato and made our very own Supertato to take home.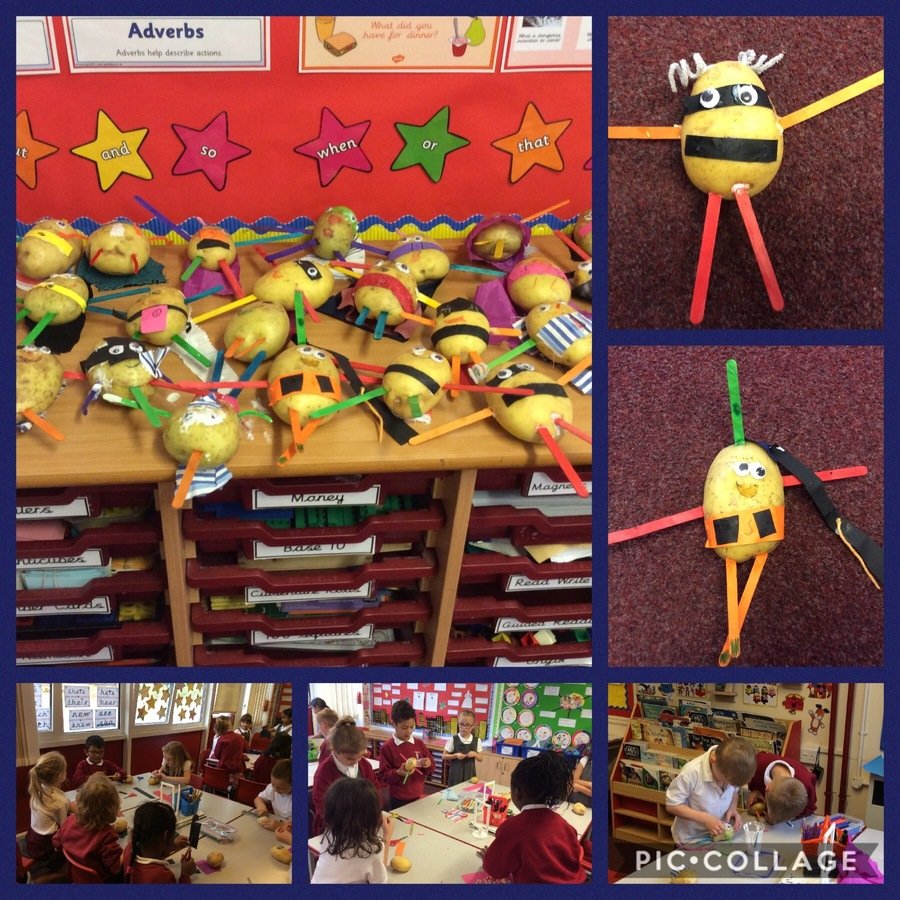 Instruction writing and making pizzas
In English we wrote instructions and followed them to make delicious pizzas. Using our knowledge of food groups, which we learnt in Science we tried to make sure our pizza was a balanced meal by choosing a food from each group.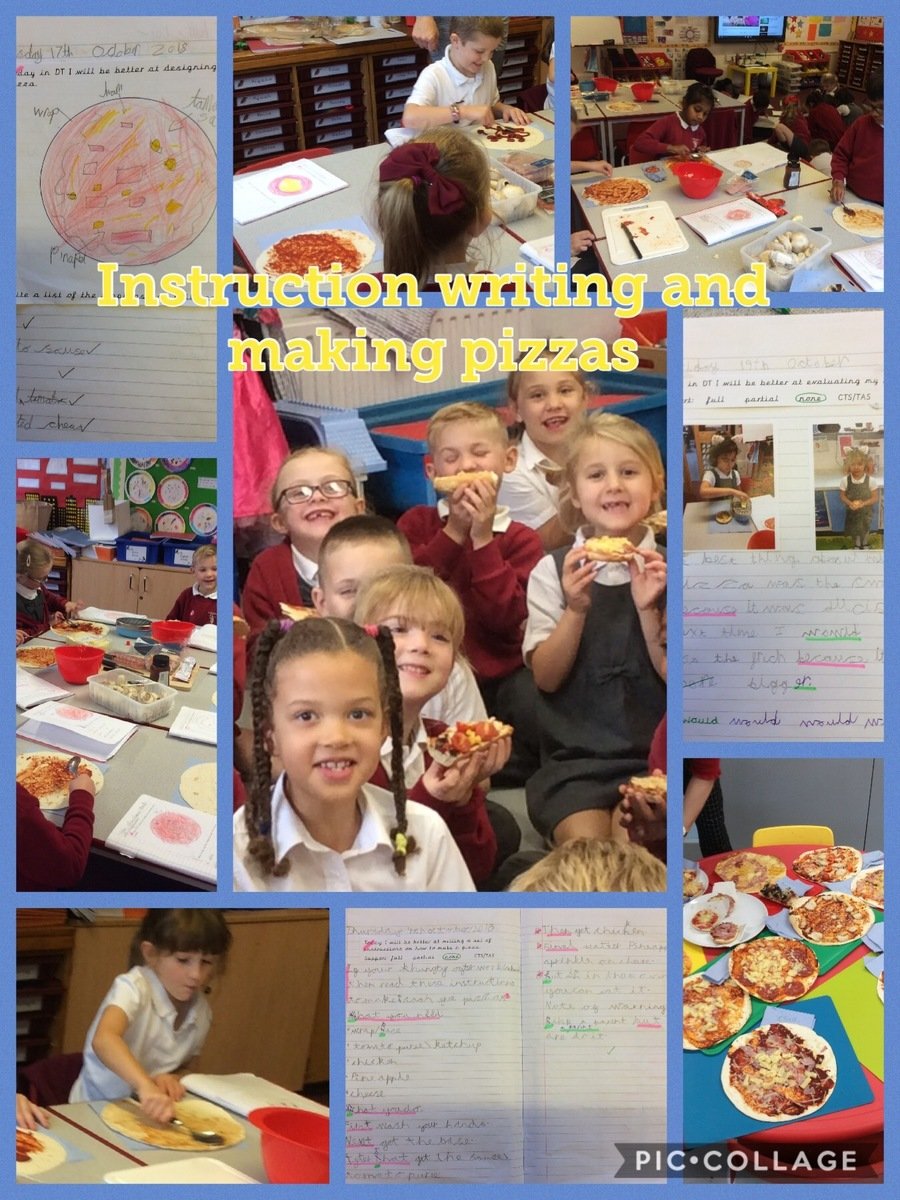 Superhero dressing up day 19.10.2018
To finish our topic we had a superhero dressing up day. We wrote our own superhero story, designed outfits for a superhero and built Superhero Headquarters using different construction. We looked great and had a fun day.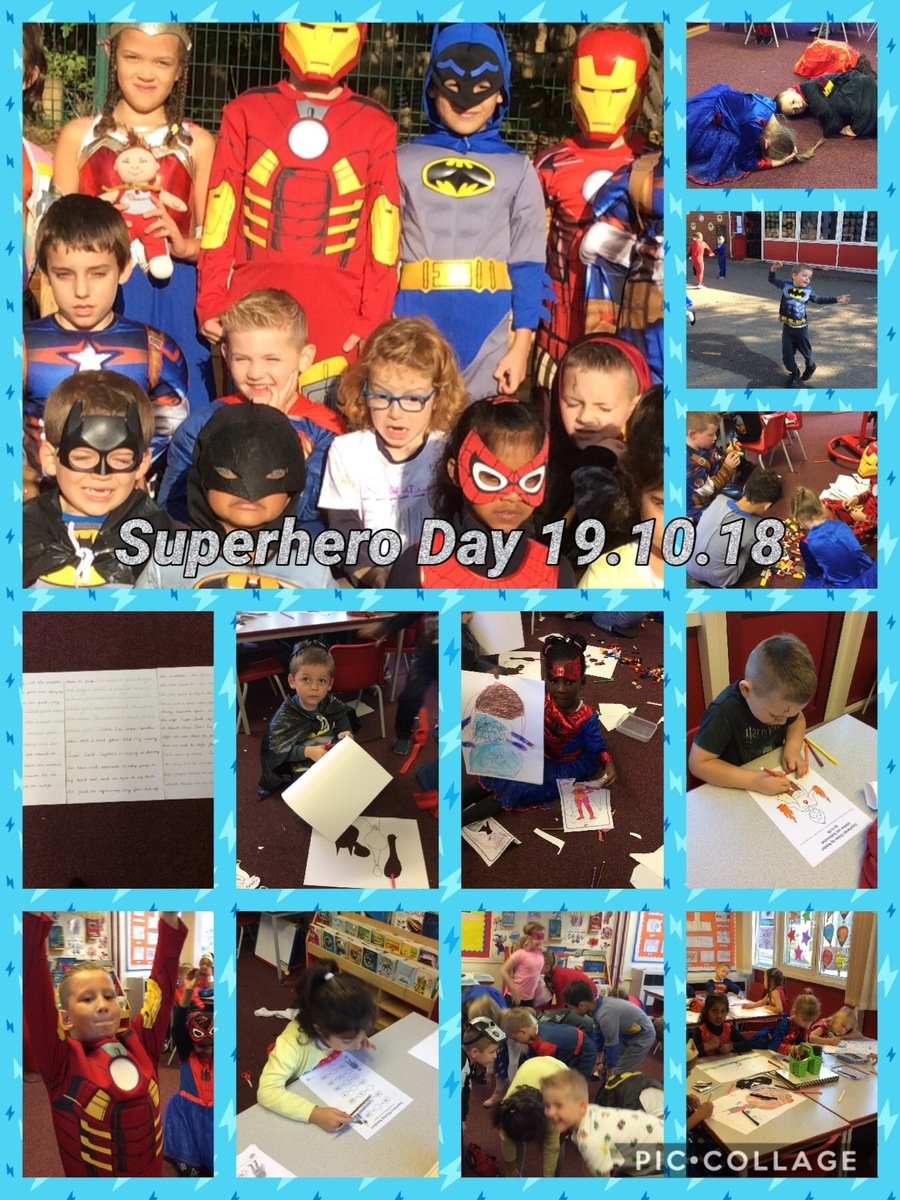 Celebrating 100 years since the end of WW1
We celebrated 100 years since the end of WW1 during the week 5th-9th November. We learnt about life in the trenches, created poppies, collaged the flags of the countries involved, wrote poems, created silhouette soldier pictures and many other activities.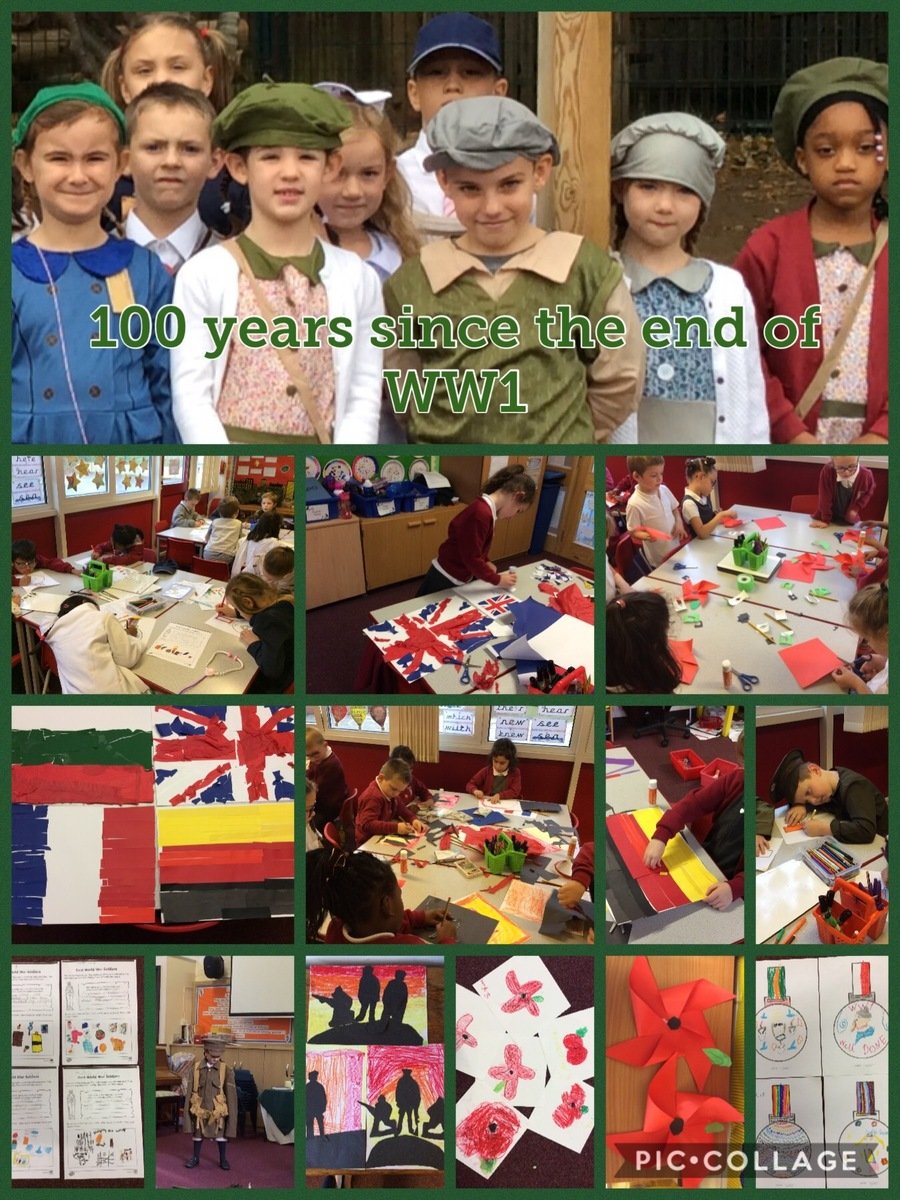 As part of RE we visited two churches in our local area, United Reformed Church and St Marks. We thought about why people would visit the church and compared them thinking about similarities and differences. Thank you to Father Ben and Susan Scott for sparing time to talk to us.
Our topic for the second term was The Great Fire of London. We learnt that it started on Sunday 2nd September 1666 in a bakery on Pudding Lane. We wrote diary entries and newspaper reports. To finish the topic we had a WOW day where we made our own bread and recreated The Great Fire of London on the playground.
We were very lucky to have visit from Joanne Atherton, an artist who creates pieces using items of plastic, washed up on shore, that she collects from various beaches. She showed us some of her incredible artwork, then we were all given a piece of clay which we rolled, used plastic items to decorate and finally cut into shapes. When the clay is dry we will paint the clay tiles and create a whole school piece of artwork. We can't wait to see the finished piece. In addition to working with Jo we also researched the importance of recycling, which bin is for which rubbish and designed recycling posters.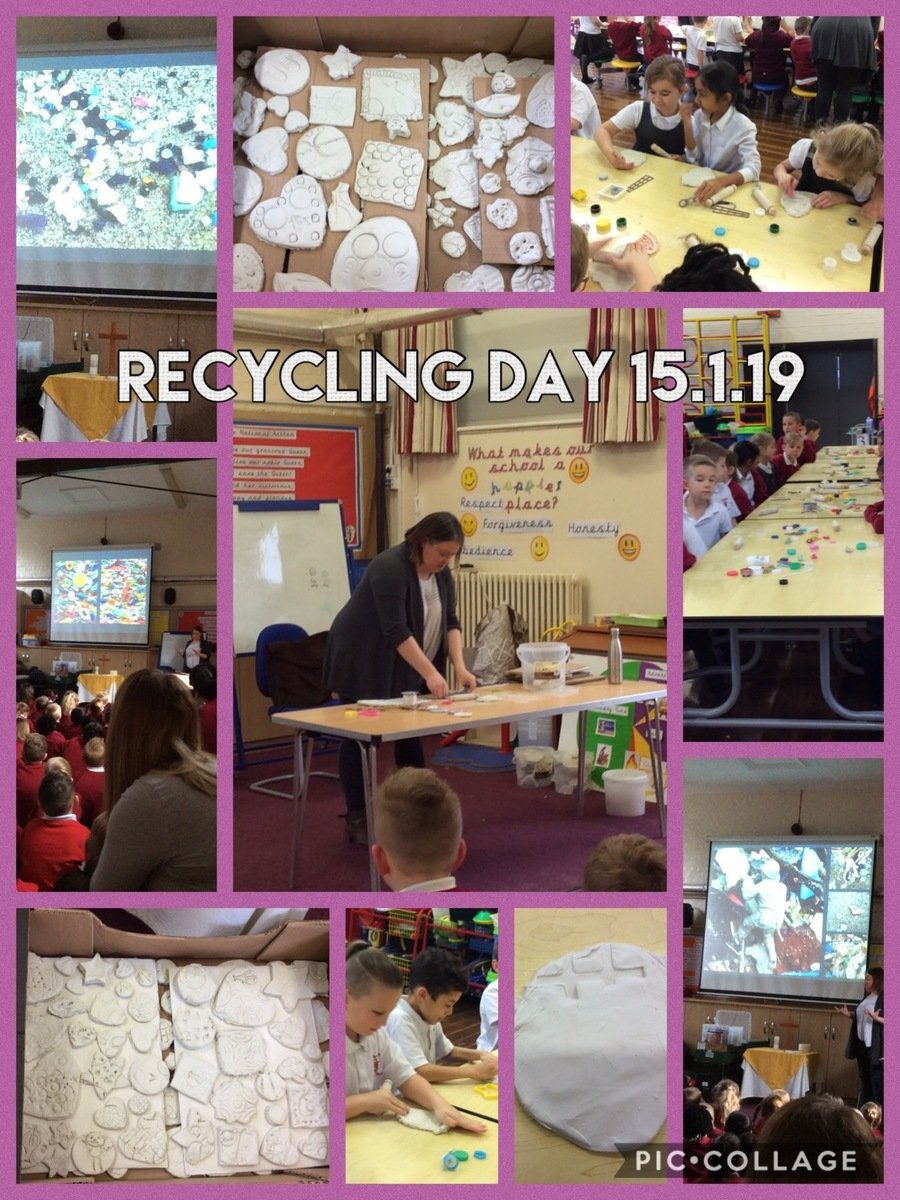 In Art we watched A Spider Weaver and looked at Kente Cloths which are popular in Africa. Using coloured strips of paper we created our own Kente Cloths. Continuing to use the under, over weaving technique we chose a variety of different fabrics and wove them onto a cardboard loom. They all look amazing!
Mental Health Awareness Day 15.02.19
Everyone can see if you have a broken arm but if you are feeling confused or alone people can't read your mind. We discussed the importance of talking out loud and identified times when we had felt stressed, sad, angry, alone or worried. Then we thought about how we could cope with these feelings. At the end of the session we gathered together to blow bubbles to release our worries in a calm way.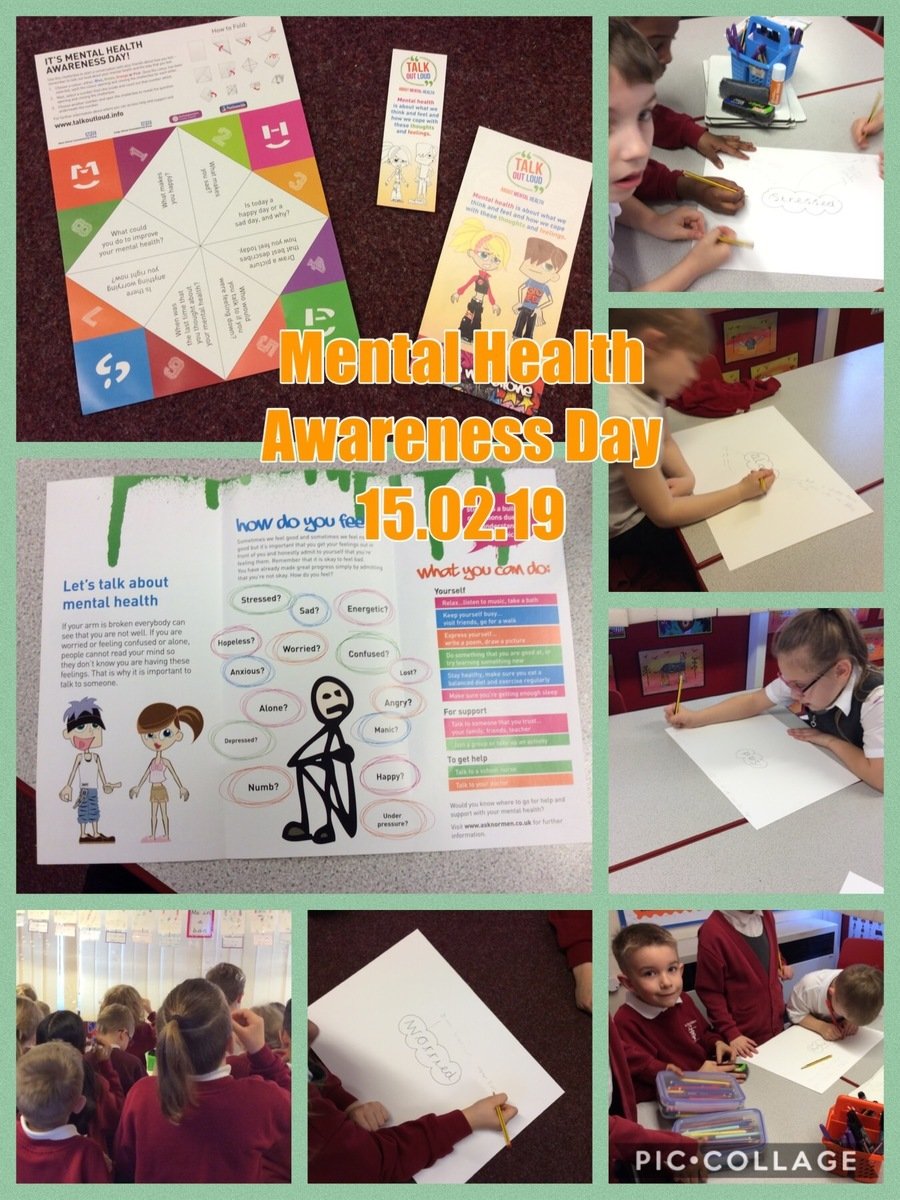 World Book Day 7th March 2019
We all came to school wearing a T-shirt that we had decorated with our favourite book characters and quotes, we looked amazing! The day started with some of us sharing a book with our parents, then as part of our assembly the teachers shared a page from their favourite book. During the day we completed word searches, designed book marks and wrote a book review. To end our day we shared a story with our friends in year 1.