Recreating The Great Fire of London 13th December 2019
To finish our Great Fire of London topic we all made a Tudor style house. We lined them up on the playground, close together to recreate the London streets of 1666. Whilst they burnt we all sang our version of London's Burning.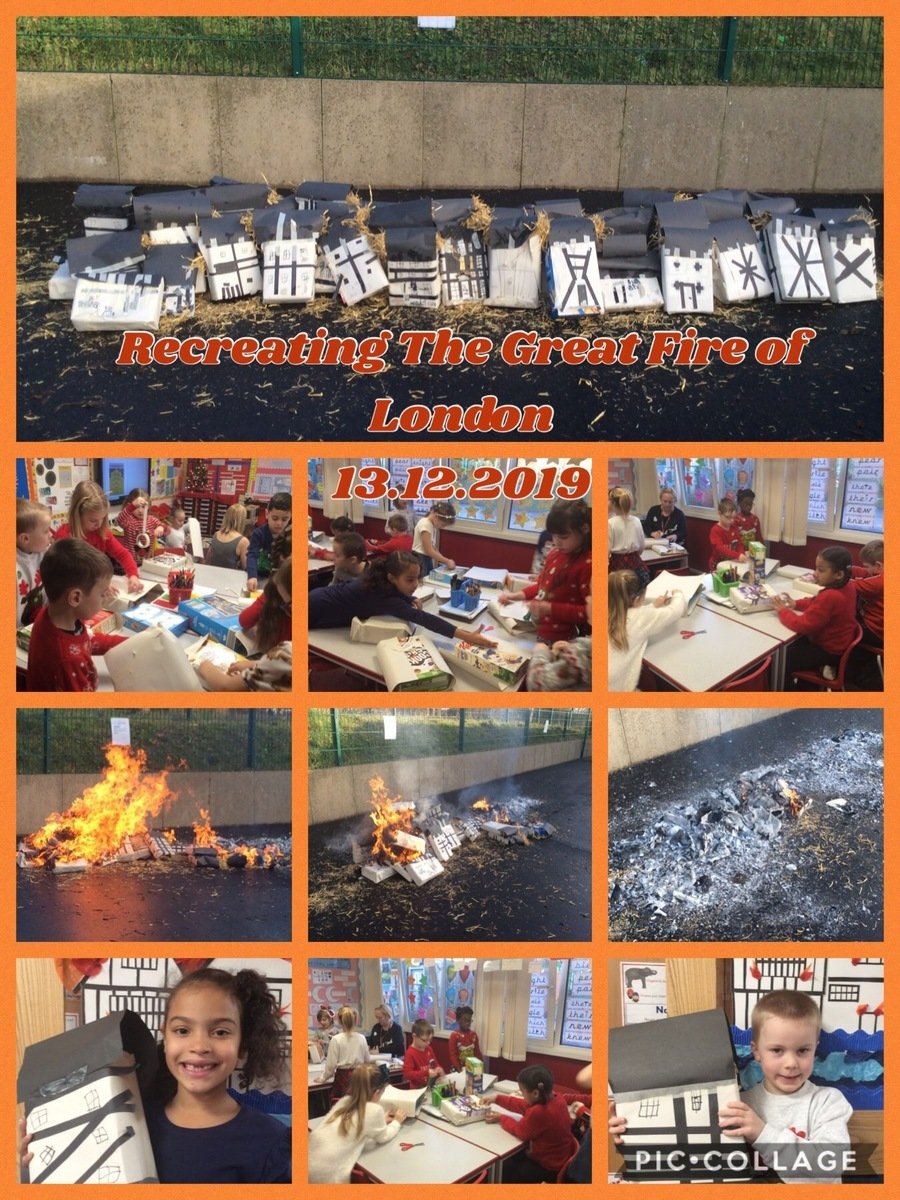 Christmas Jumper Day 13th December 2019
To support Save the Children we all came into school wearing our Christmas jumpers, we looked great!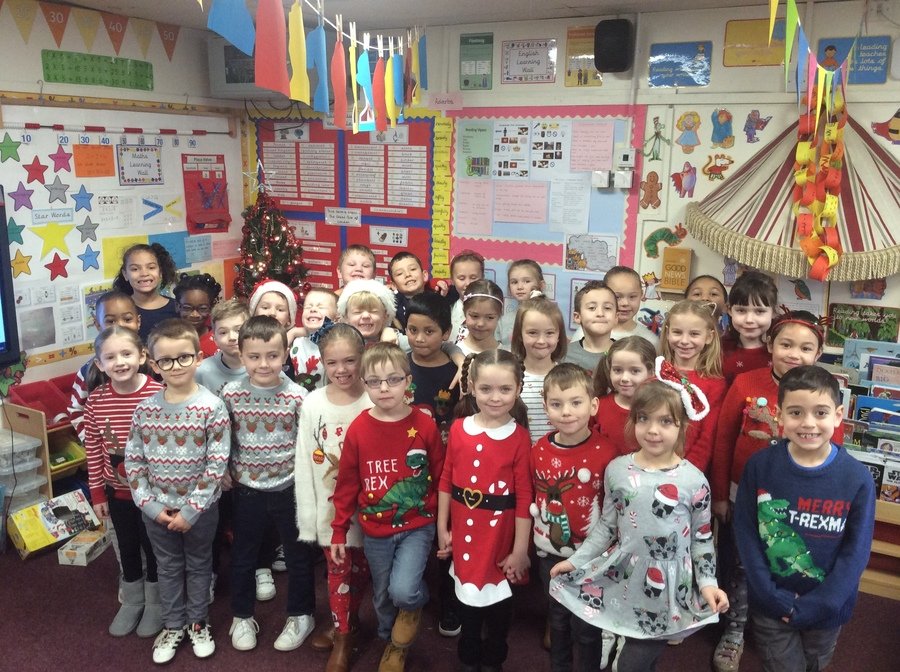 Math's Day - Measurement 18th November 2019
We had so much fun exploring measurement on Maths day. We followed a recipe and measured out the ingredients to make our own mocktails, made snakes of varying lengths using playdough, measured and ordered a variety of sticks outside, used Numicon to make the scales balance and built models using different construction that we could also measure. Please also ask us about our investigation to find out if the tallest child had the longest feet, we had some interesting results and found out that it is sometimes true but not always.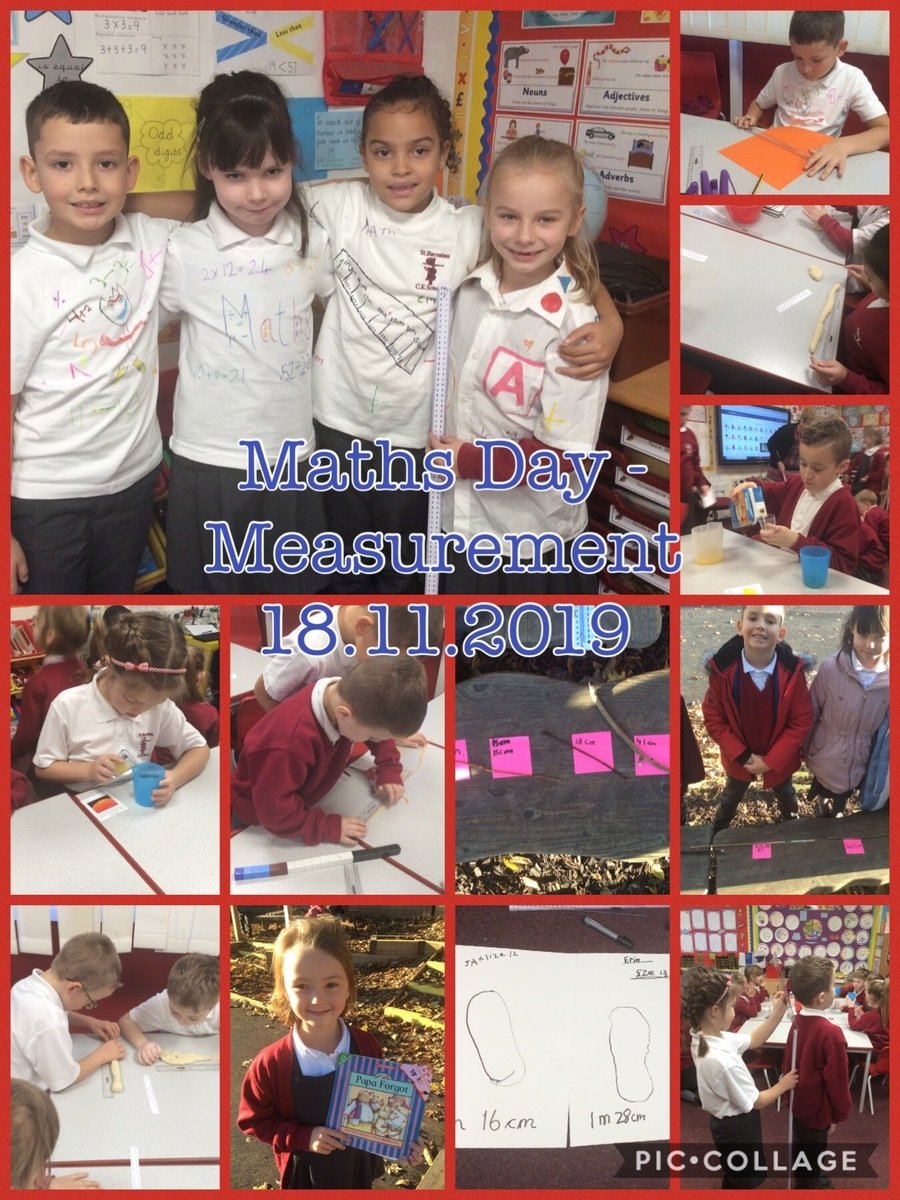 Visit to the United Reformed Church 14th November
Our second church visit was to the United Reformed Church on the High Street. What a wet walk we had! Liz spoke to us the church, its unique features and what the church is used for. We even learnt its nickname which is The Pork Pie Church! After visiting both churches we were able to make comparisons between them, thinking about what was similar and what was different.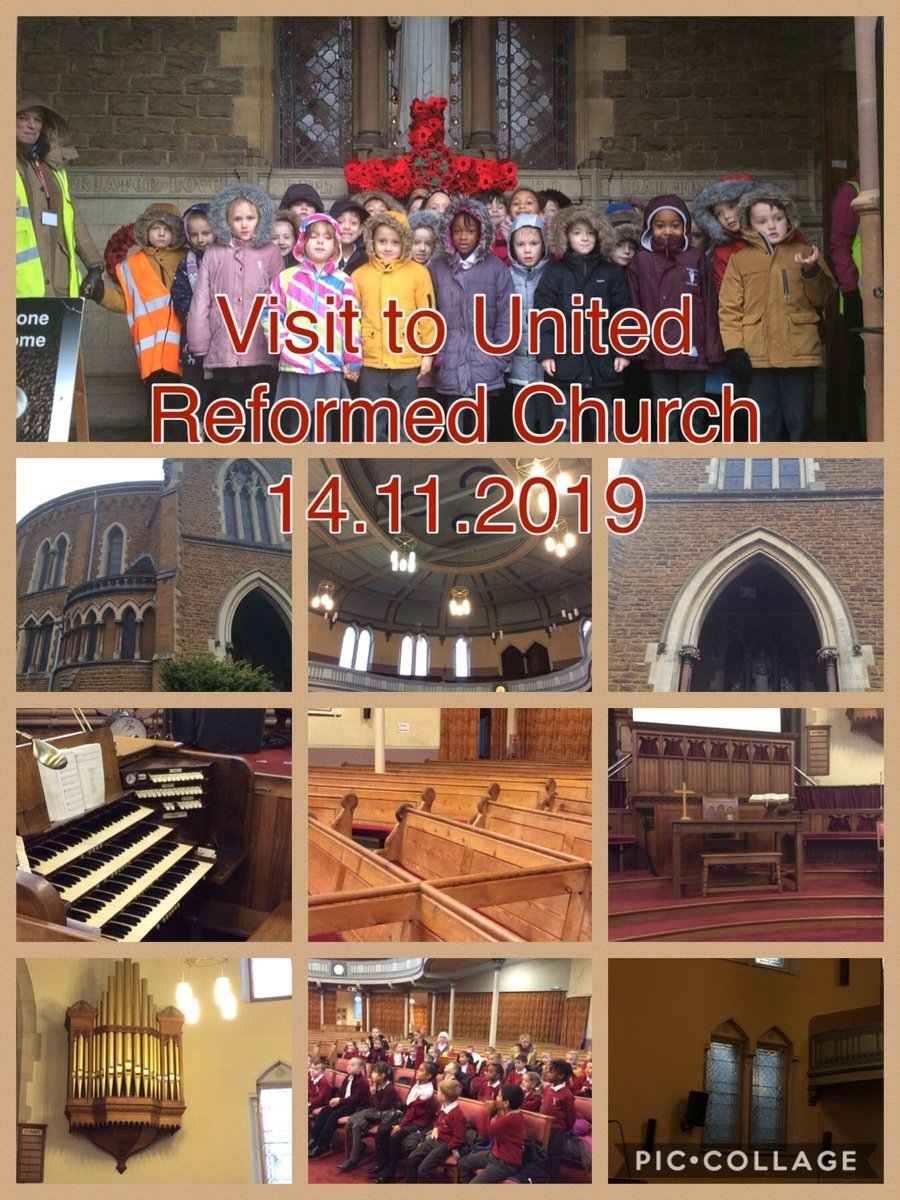 Visit to St Marks Church 13th November 2019
A very excited Kingfisher class walked to St Marks Church on Brickhill Road, it was a long walk. Father Ben told us all about his church, when it was built (1970), why people attend the church and discussed the features of it. He showed us how he would conduct a Christening, share Communion and let some of us wear the clothes he wears at special times during the Christian calendar.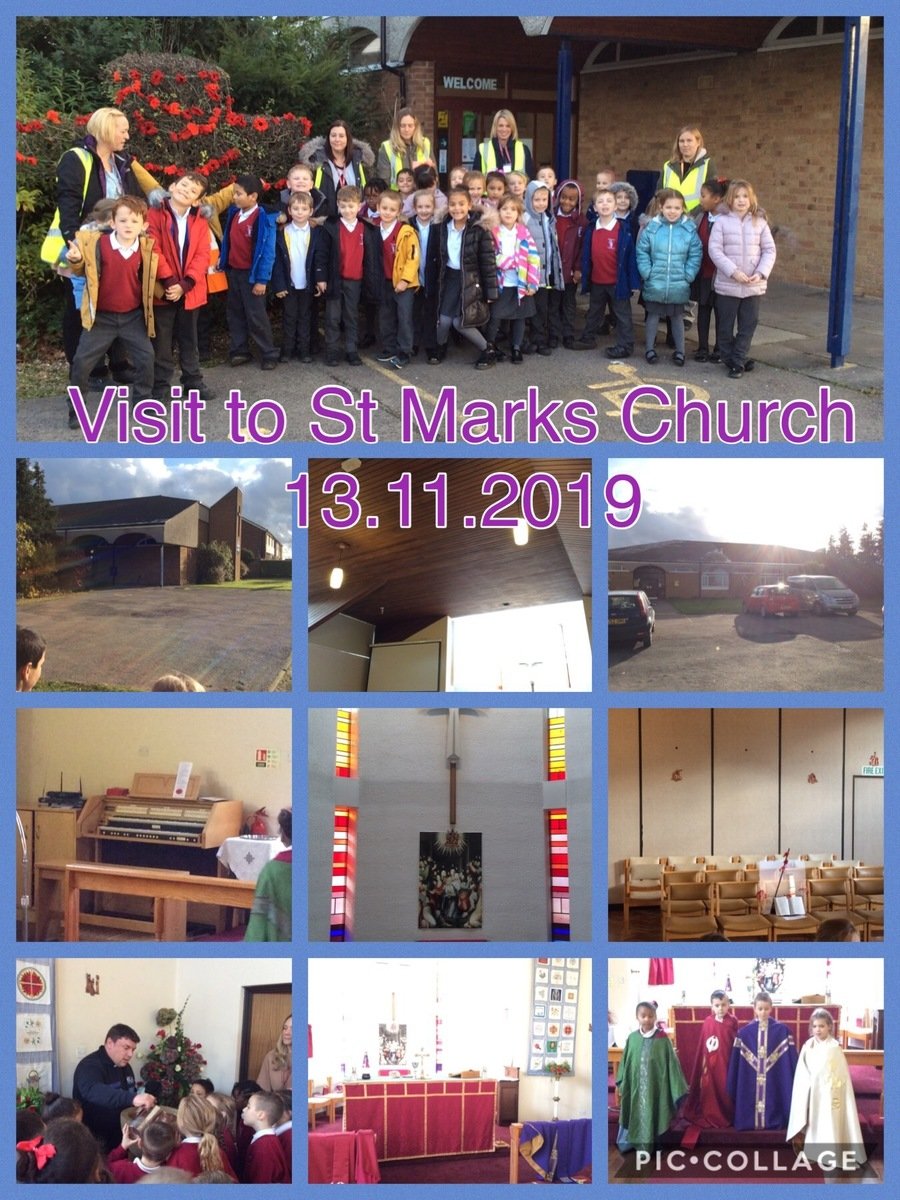 Although Diwali was celebrated during half term we had a Diwali afternoon in school during the first week back. We recapped the story of Rama and Sita and the meaning of Diwali. Activities included making Diwali cards, completing Rangoli patterns and Diwali word searches.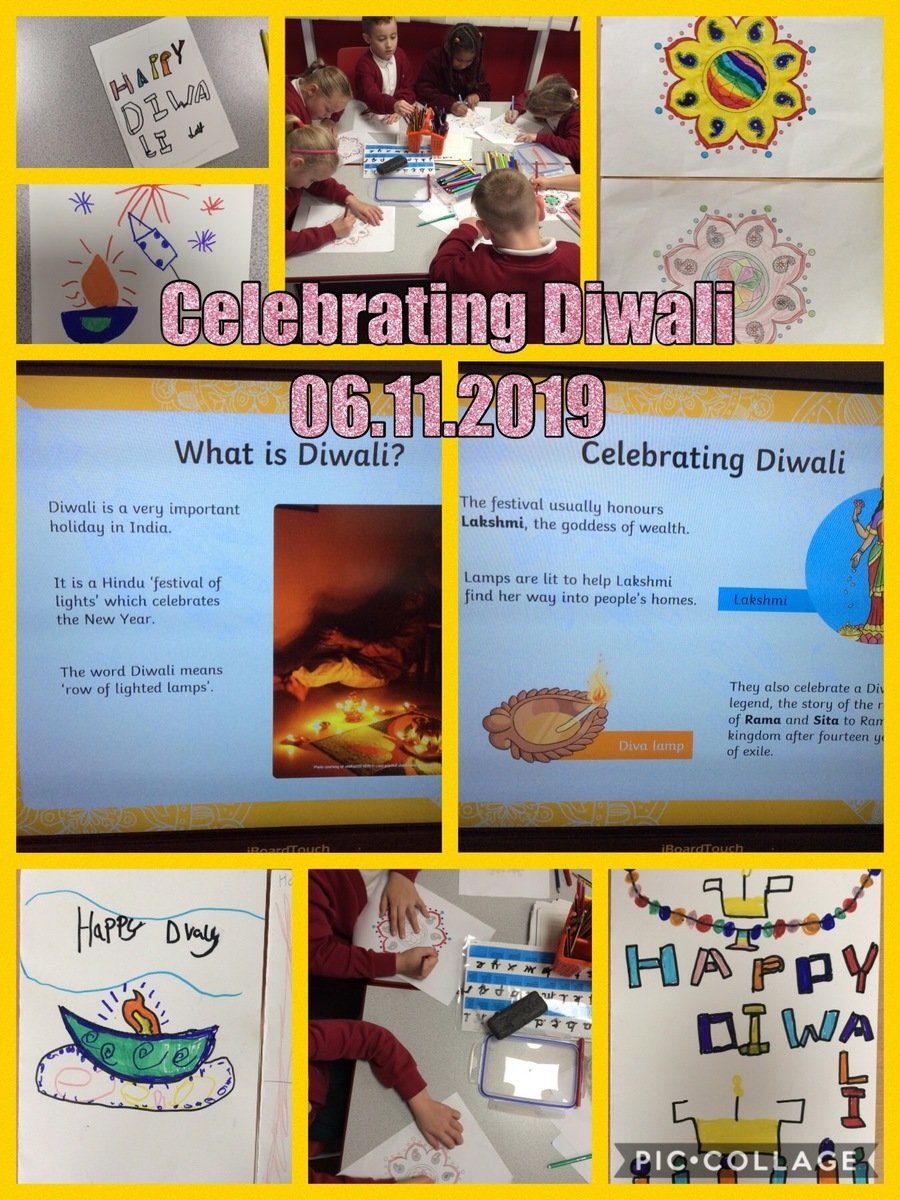 Superhero Day 23rd October 2019
To end our Superhero topic we all came to school dressed as Superheros, even the teachers!! During the day we used our knowledge of the 5 food groups and the chopping and grating skills we have learnt to make a healthy pizza, created a cartoon strip, communicated in superhero code and completed other superhero based activities. A great day was had by all!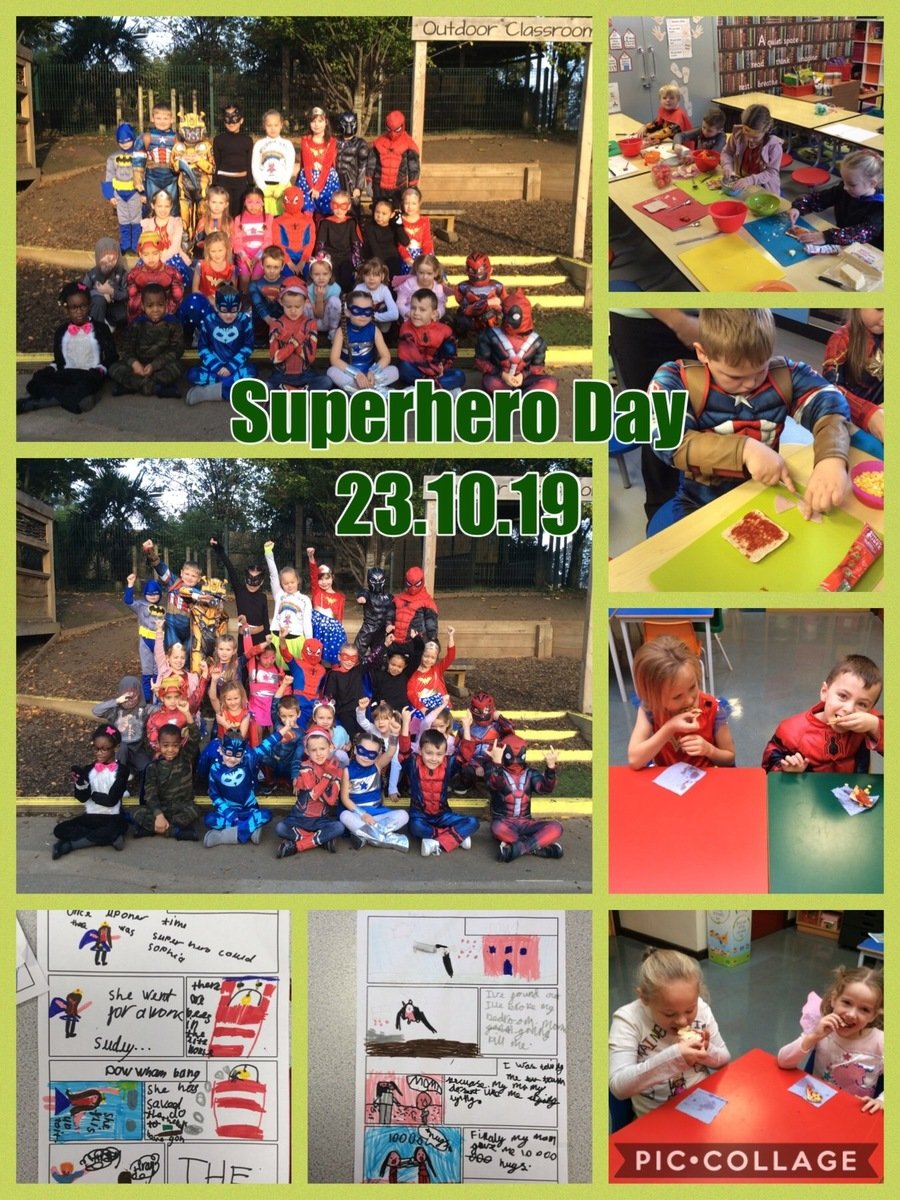 Superhero City scene 22nd October 2019
We thoroughly enjoyed creating our Superhero City scene piece of art work. Carefully we cut our buildings out of newspaper, varying the shape, length and width. Using a black pen we outlined them and added detail. The final additions were a superhero, a flash contain a superhero word and some glitter. They look amazing!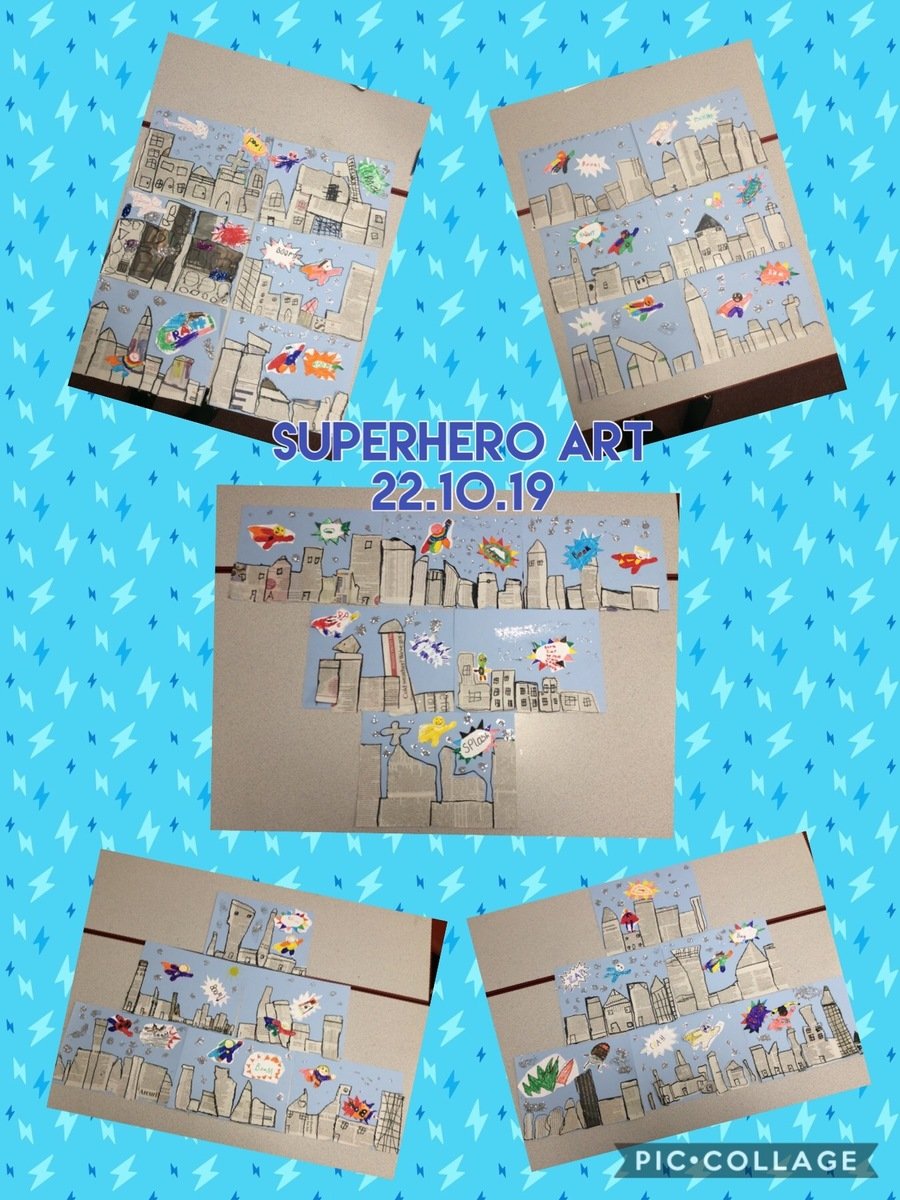 Design Technology October 2019
A letter arrived from Spiderman asking for our help to design a healthy sandwich that would give him enough energy to complete all his superhero missions. We learnt about the 5 different food groups and the importance of eating a variety of foods. During a tasting session we choose the foods that we would include in our sandwich. Then we practiced the skills we would need like chopping and grating. Finally we were ready to complete our design, ensuring it met all of Spiderman's needs. We followed this to make our sandwich. Evaluation was the final process where we thought about what did and didn't work well and any way in which we could improve our sandwich.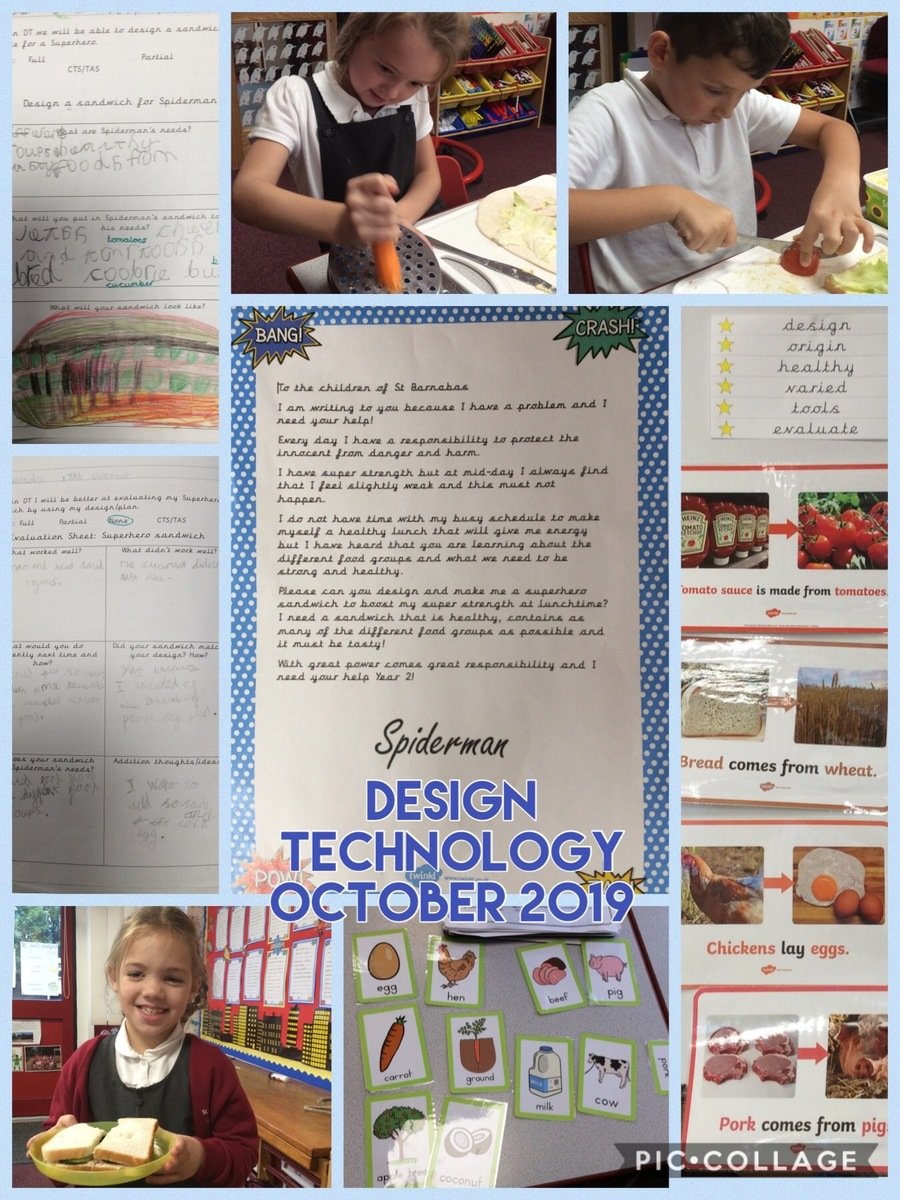 Making a Supertato 27th September 2019
What great fun we had today making our very own Supertato! They look amazing, the children were very creative. 'This is the best day ever!' was heard several times.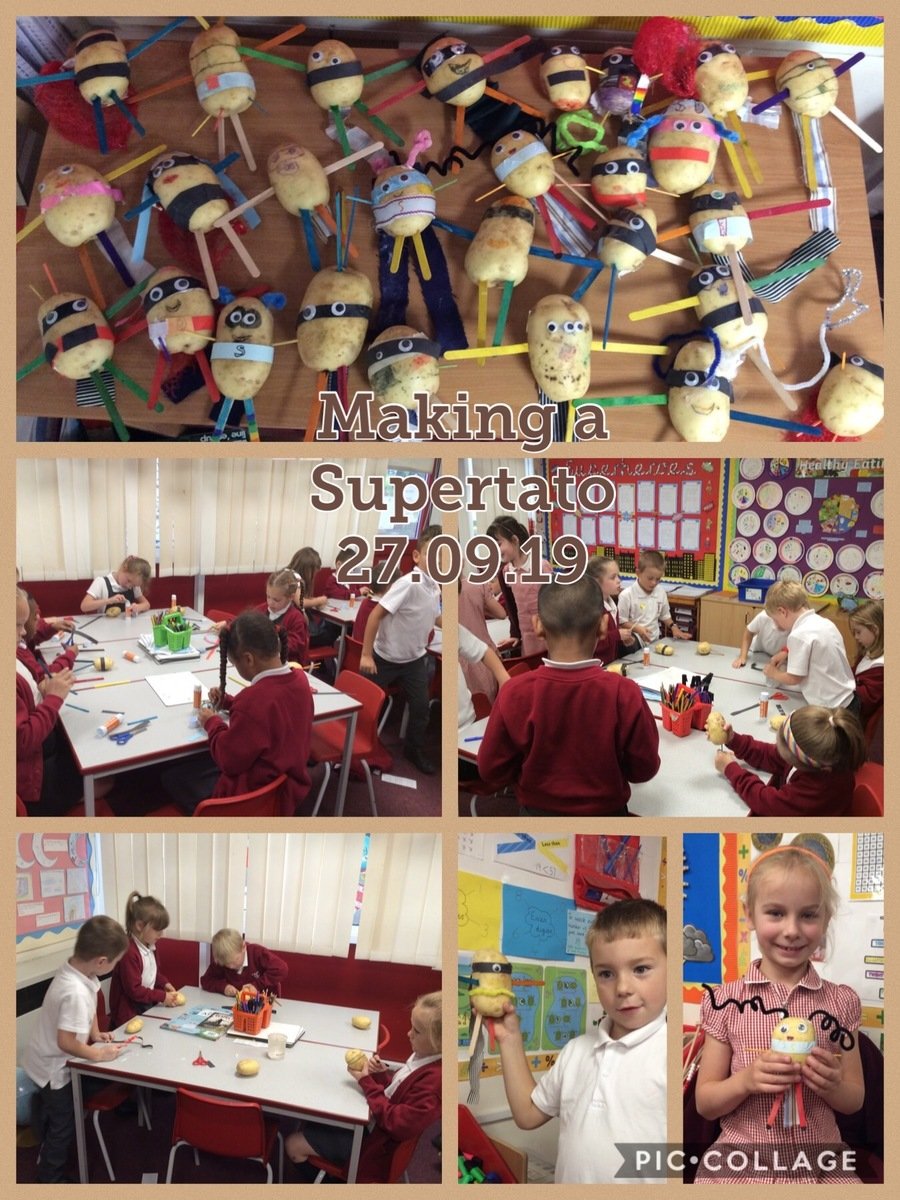 Library opening 13th September 2019
After weeks of trying to have a peak through the keyhole we finally got to visit our new, incredible library. We were amazed!! 'I feel like I'm in a dream!' 'Wow!' Were just a couple of the comments that were made.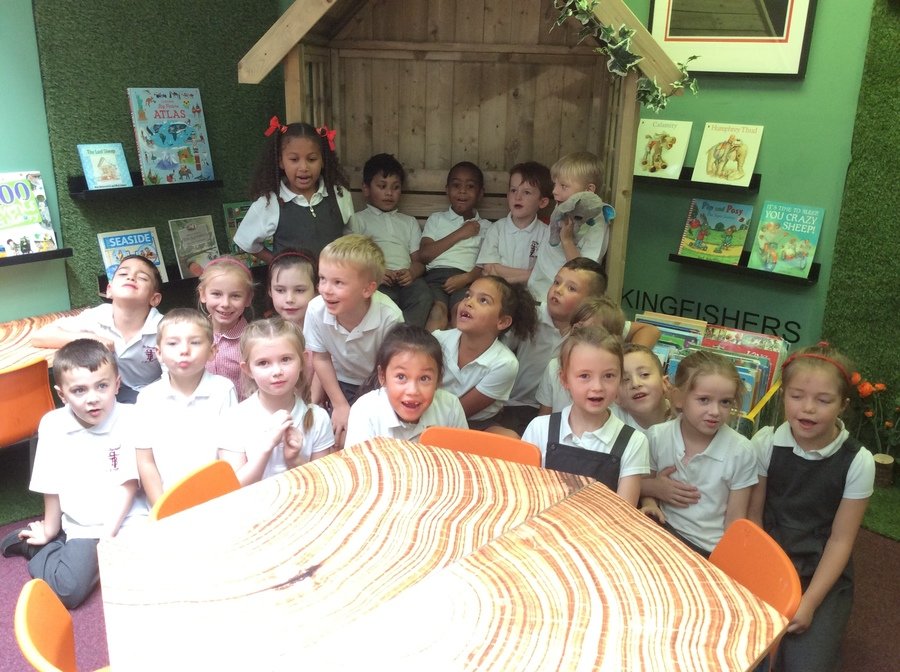 As an introduction to our Muslim topic we thought about people that are important to us and drew these onto a heart. We learnt the Muslim name for God is Allah and drew where we thought God might be.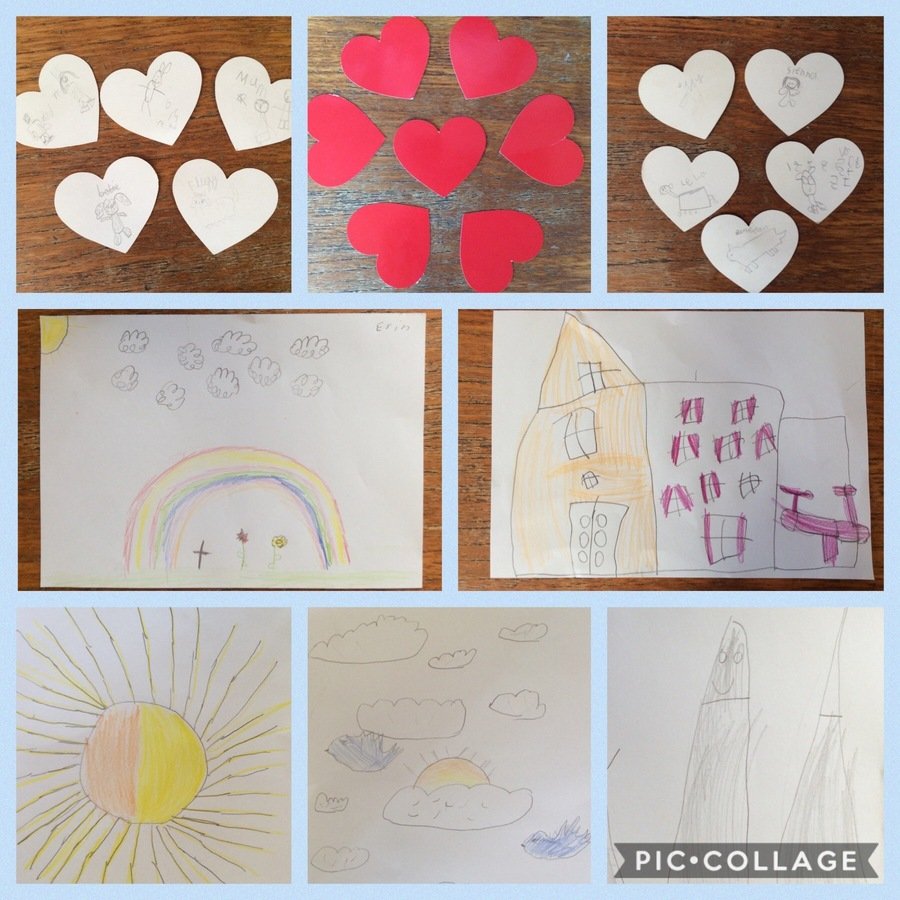 Kingfishers 2018-2019
End of year treat 23rd July 2019
As a thank you for being kind, caring Kingfishers who have won the reading trophy so many times this year we all had a delicious ice cream in the glorious sunshine. Good luck in Junior school Kingfishers!!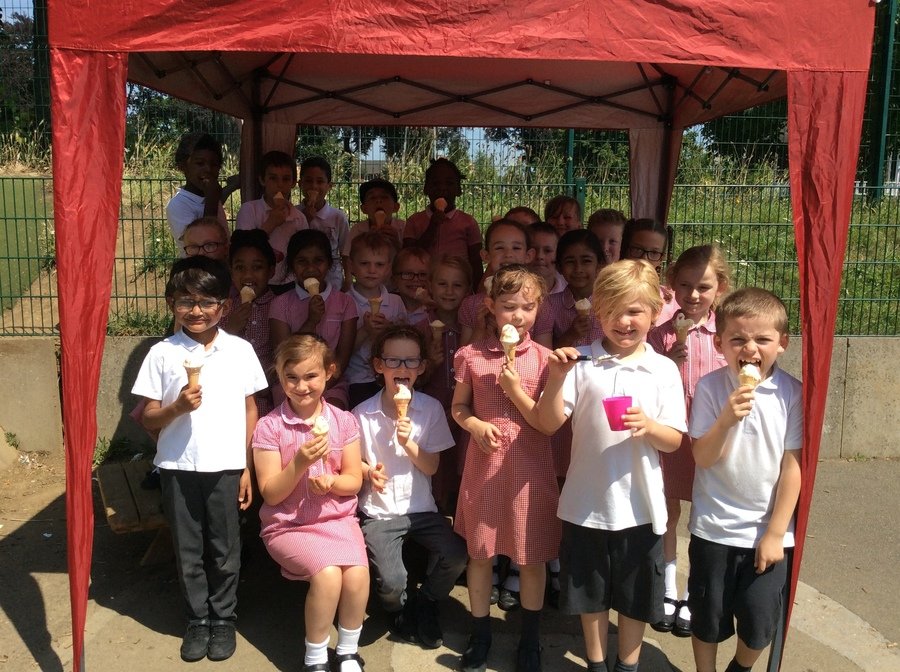 Hunstanton 11th July 2019
Our end of year trip was to Hunstanton. We paddled in the sea, ate ice cream, visited the life boat station, built sandcastles and ate our picnic on the beach. It was an amazing day and we all made memories that we will treasure for ever.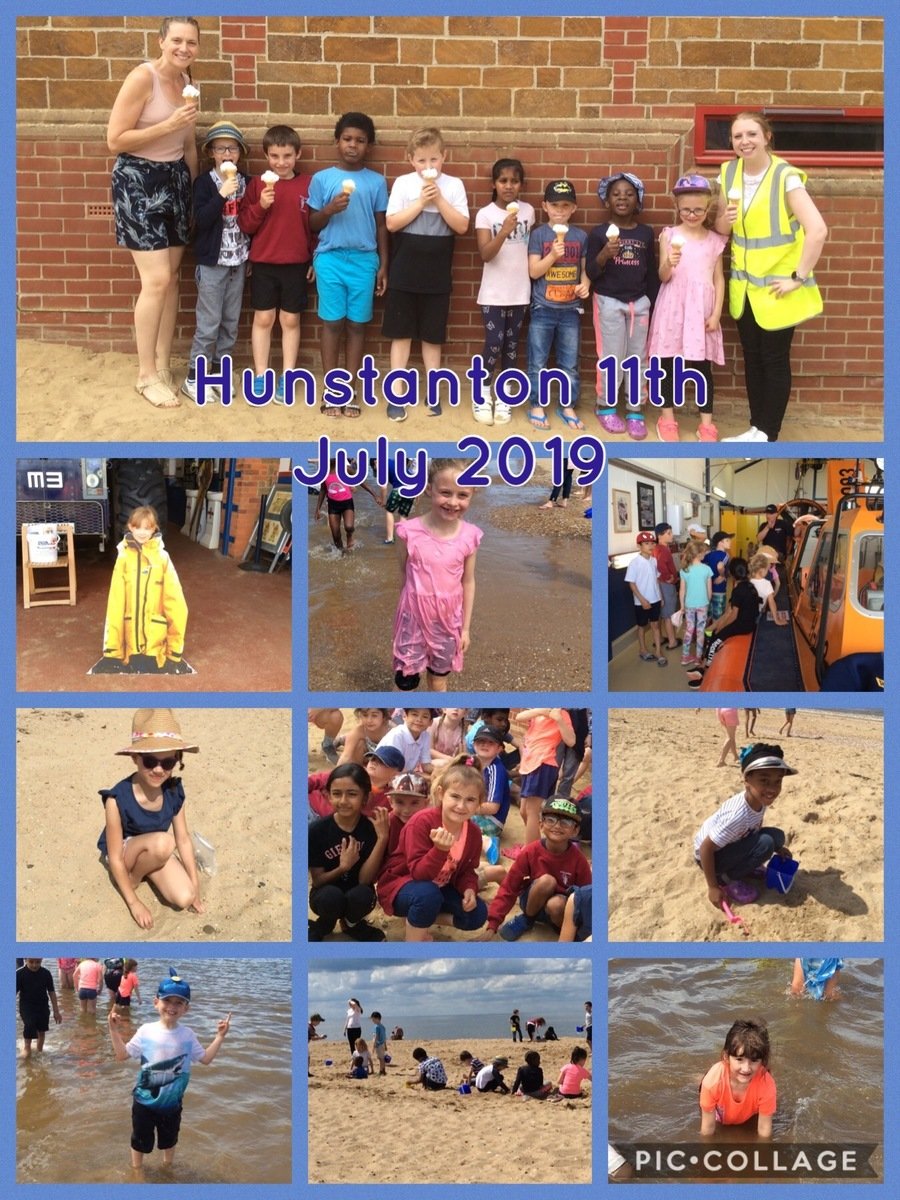 Seaside Art 10th July 2019
We had an art afternoon ahead of our trip to Hunstanton. Using a selection of paper, foil and glitter we created an under the sea image inside a laminating pouch. Andy Warhol is a famous Pop Artist, we studied some of his work then had a go at drawing and colouring our own versions with various seaside objects.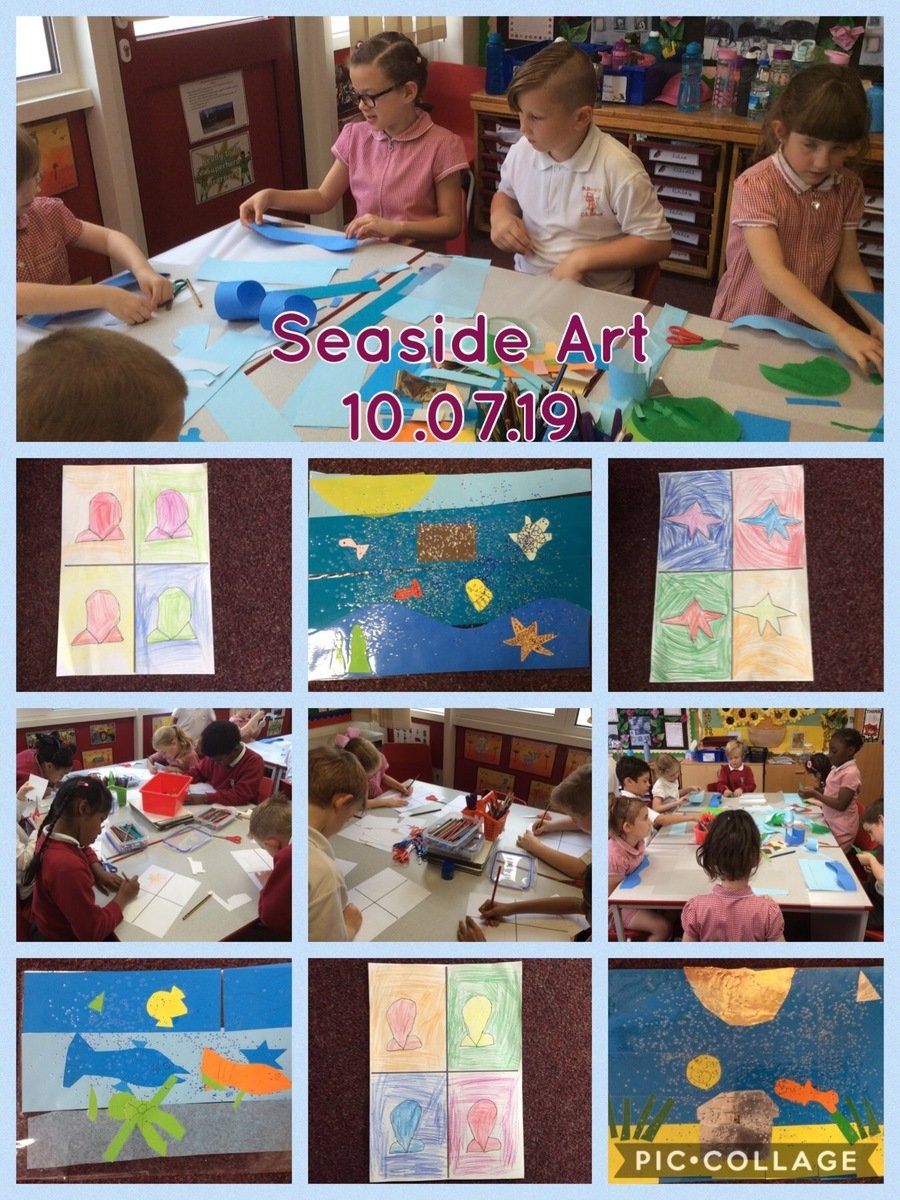 As part of our seaside topic we sketched shells, thinking about line, shape and pattern. Once we had chosen our favourite shell we carefully transferred this onto a polystyrene tile. Then using two different coloured inks we printed onto sugar paper. They looked so effective, we were really pleased with the results.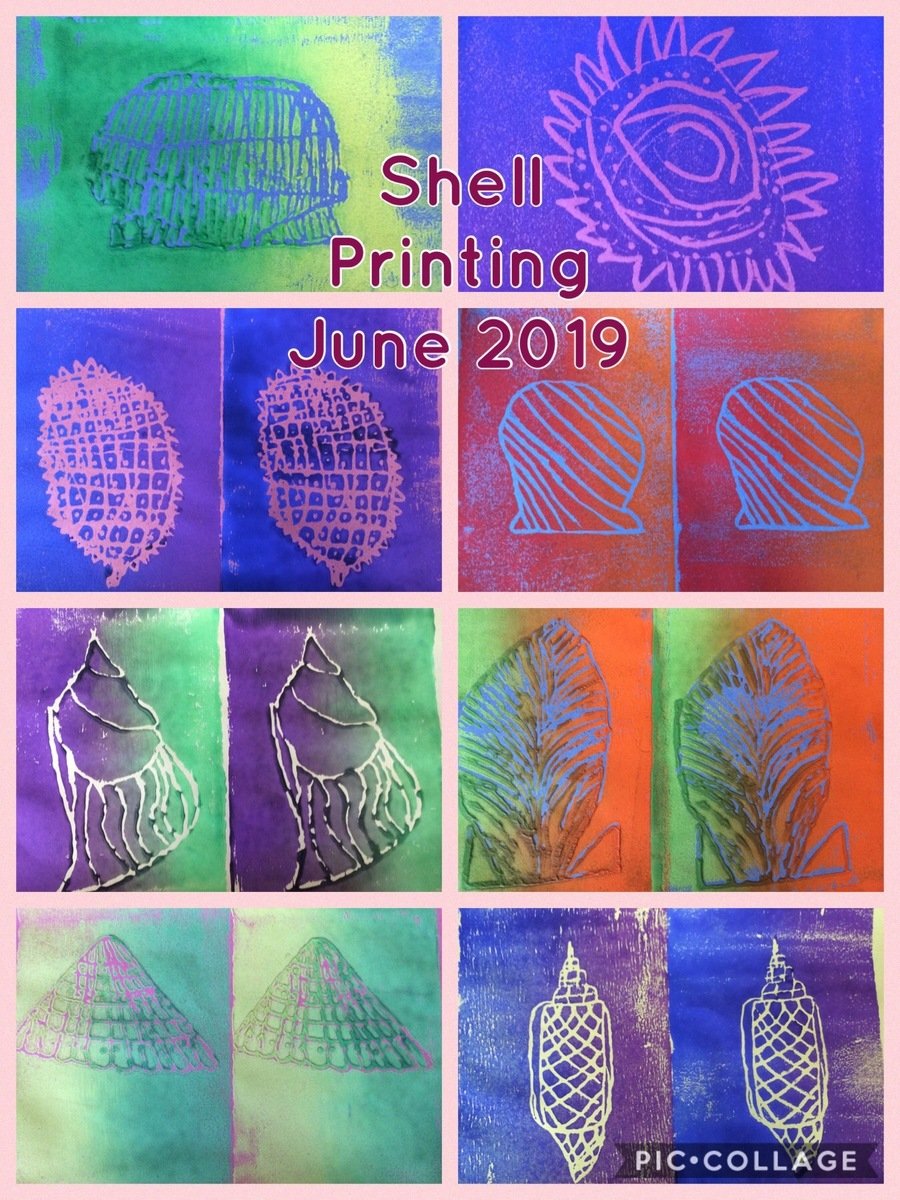 RNLI talk by Julia Grunhill 21st June 2019
Before our trip to Hunstanton we had a visit from Julia Grunhill who is a volunteer for the RNLI (Royal National Lifeboat Institute), a charity which started in 1824 with The Queen as the head. She told us the four main rules which are, Stop and Think, Stay Together, Float and Call For Help. We learnt that a red and yellow flag means it is safe to swim but a red flag is a sign of danger and all made the star shape that we should float in if we ever got into danger in the water. Whilst looking at a beach scene we were able to identify all 15 dangers. Julia also shared some of the RNLI rescues with us and told us that their motto is Every Life Matters.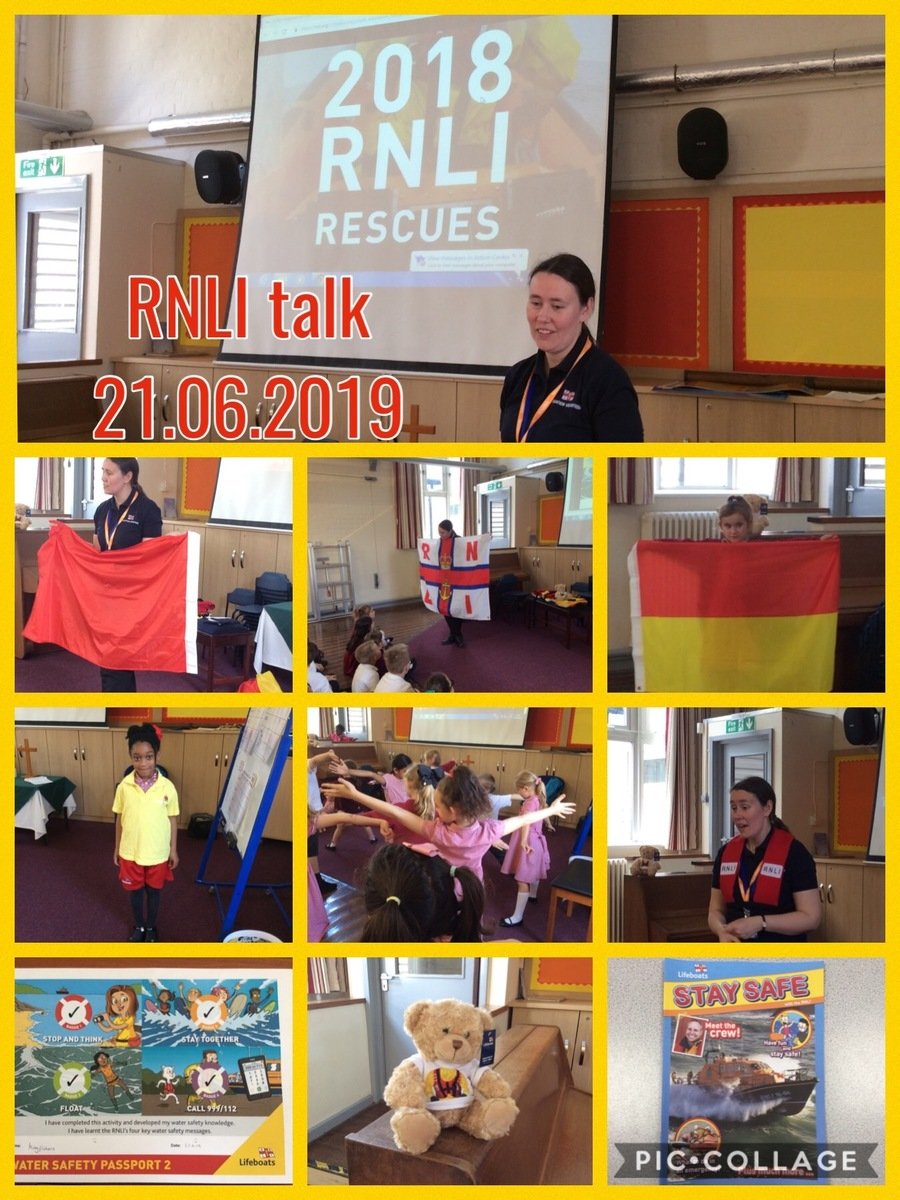 Minibeast Hunt 20th June 2019
Finally the rain stopped and we were able to explore the micro-habitats within the school grounds for minibeasts. The three areas we searched were the adventure playground, outside Year One and on the bottom playground. Under logs or stones we found spiders, worms, slugs, woodlice, centipedes and ants. Hiding in a crack in the wall we spotted a spider. A ladybird was crawling along the wall outside Badger's classroom. Back in our classroom we discussed why these mirco-habitats make a perfect home for minibeasts.
We used a range of fieldwork techniques and observational skills to study our school and the local area. Following a map we walked around our local area and plotted street names, landmarks and places of interest. Once back at school we devised our own maps with a key, thinking carefully about the symbols we used to represent each item. We have learnt that our local area has many different features and facilities that provide for a variety of people and can meet many of their daily needs.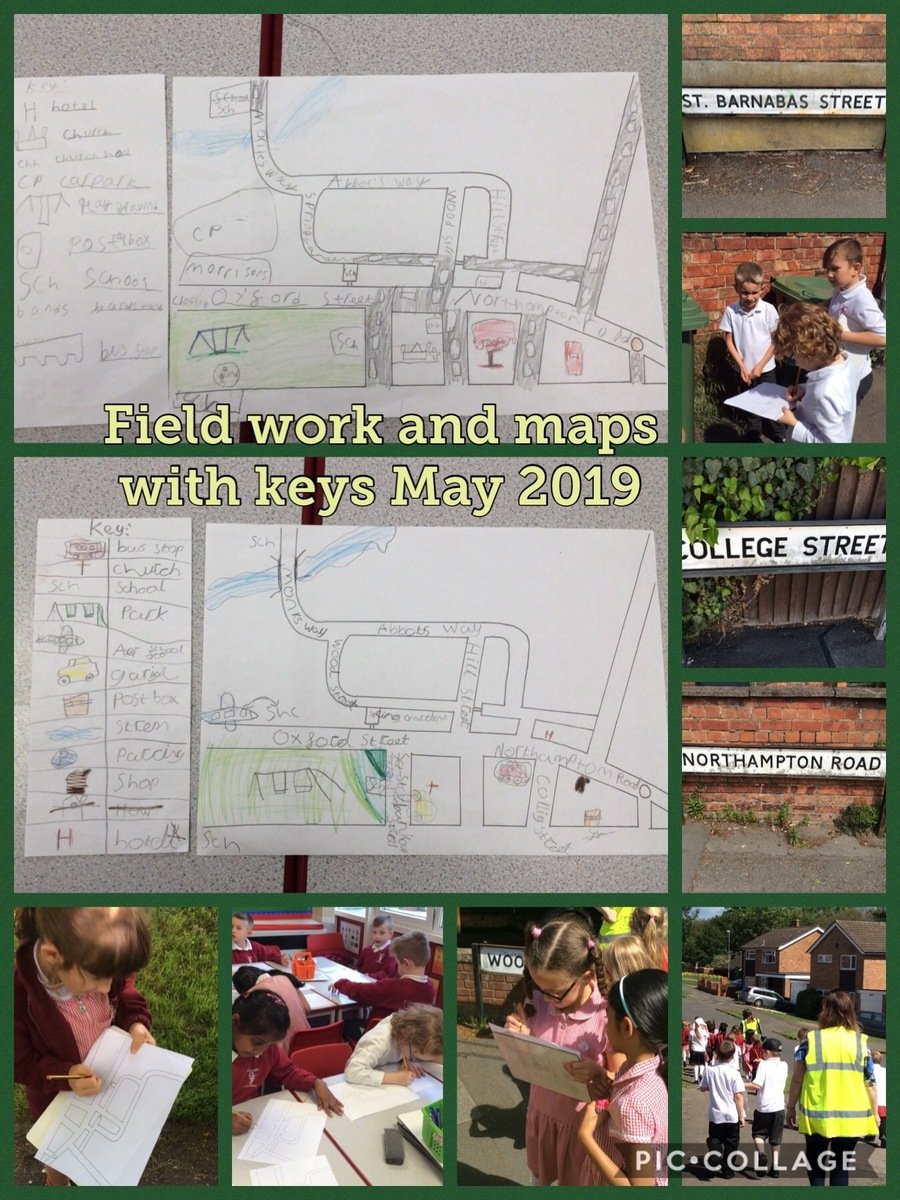 Vincent Van Gogh's Sunflowers
This term in art we have learnt about the artist Vincent Van Gogh and explored some of his work. We sketched sunflowers then we created our own using a range of items to add texture to the centre of the flower head. They look absolutely amazing on our display in the classroom.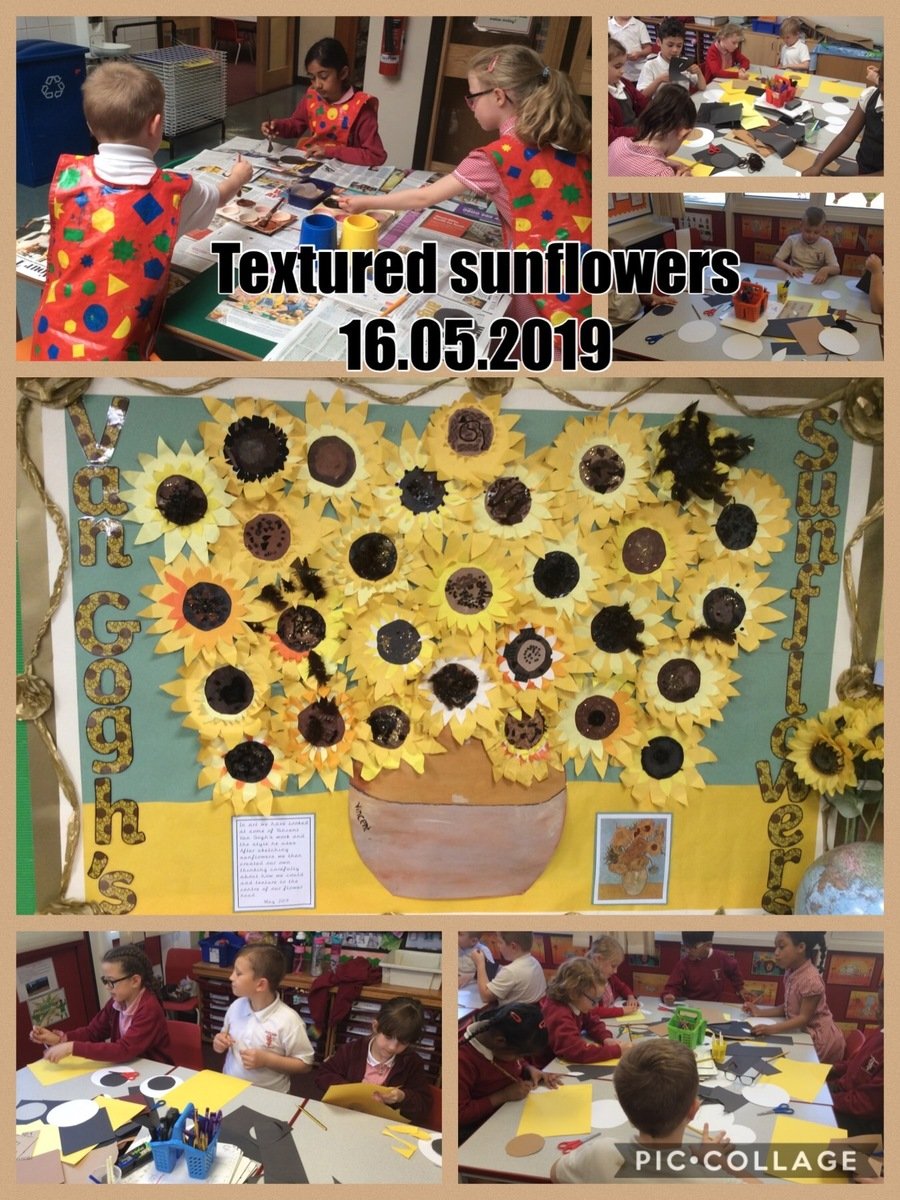 Mrs Lee visit 15th May 2019
This term in RE we have been learning all about the Judaism and the things that are special to Jewish people and their families. We were lucky to have a visit from Mrs Lee, a Jewish lady that shared some of her family traditions, talked about Shabbat (the Jewish day of rest), showed us some Jewish clothes and even baked some Jewish bread, Challah for us to taste. Mrs Lee was very impressed by the questions we all asked her. We learnt a lot and enjoyed tasting the food and drinking the grape juice.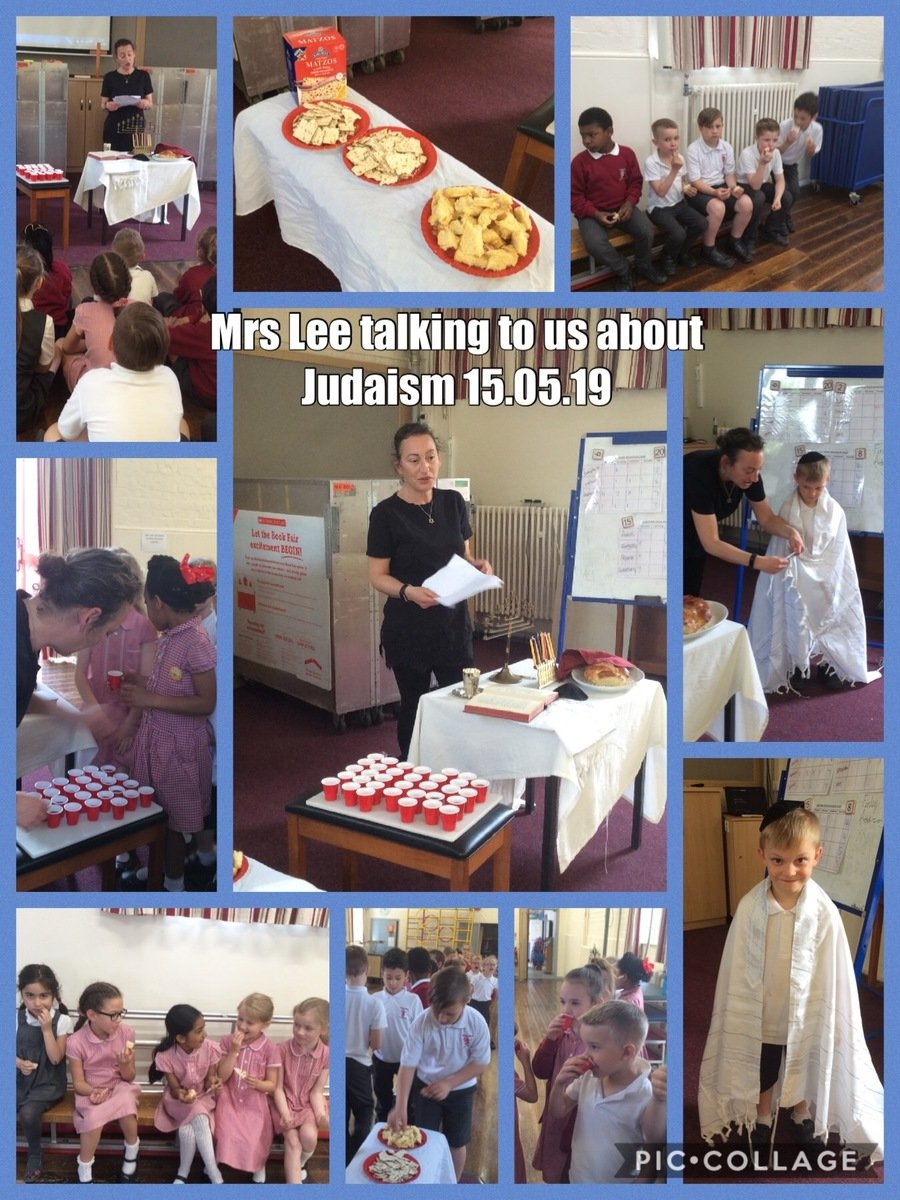 Alice in Wonderland 2nd May 2019
M and M Productions are a theatre company and they visited us to perform Alice in Wonderland. Everyone loved the performance, it was funny and included lots of songs for us to sing along to. We were worried when the Queen said "Off with her head!" to some members of staff! Enjoying the theatre without leaving our school was great.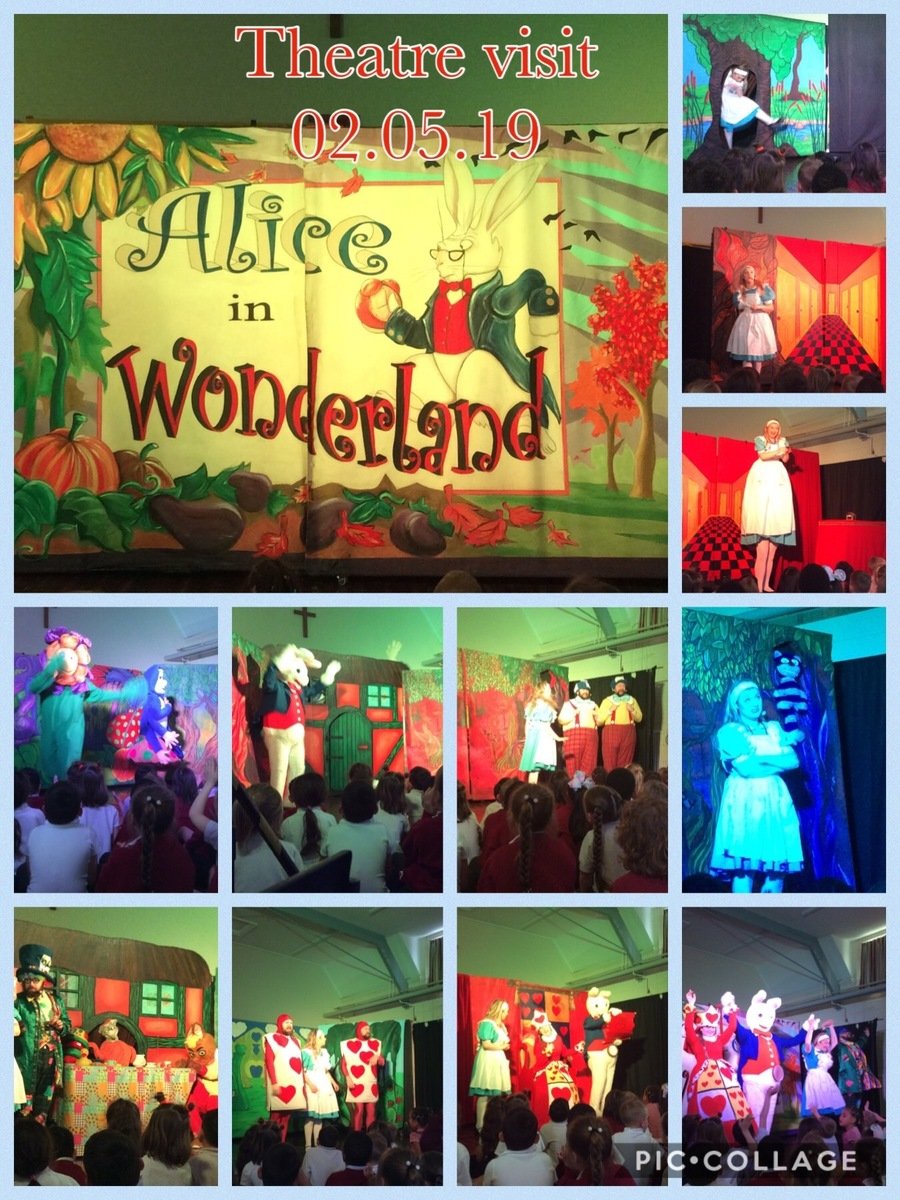 Faith Roadshow 2nd April 2019
PDET held a Faith Roadshow at Kettering Conference Centre. We learnt about lots of different faiths including Judaism, Janism, Hinduism and many others. Some of us made comparisons between these and Christianity.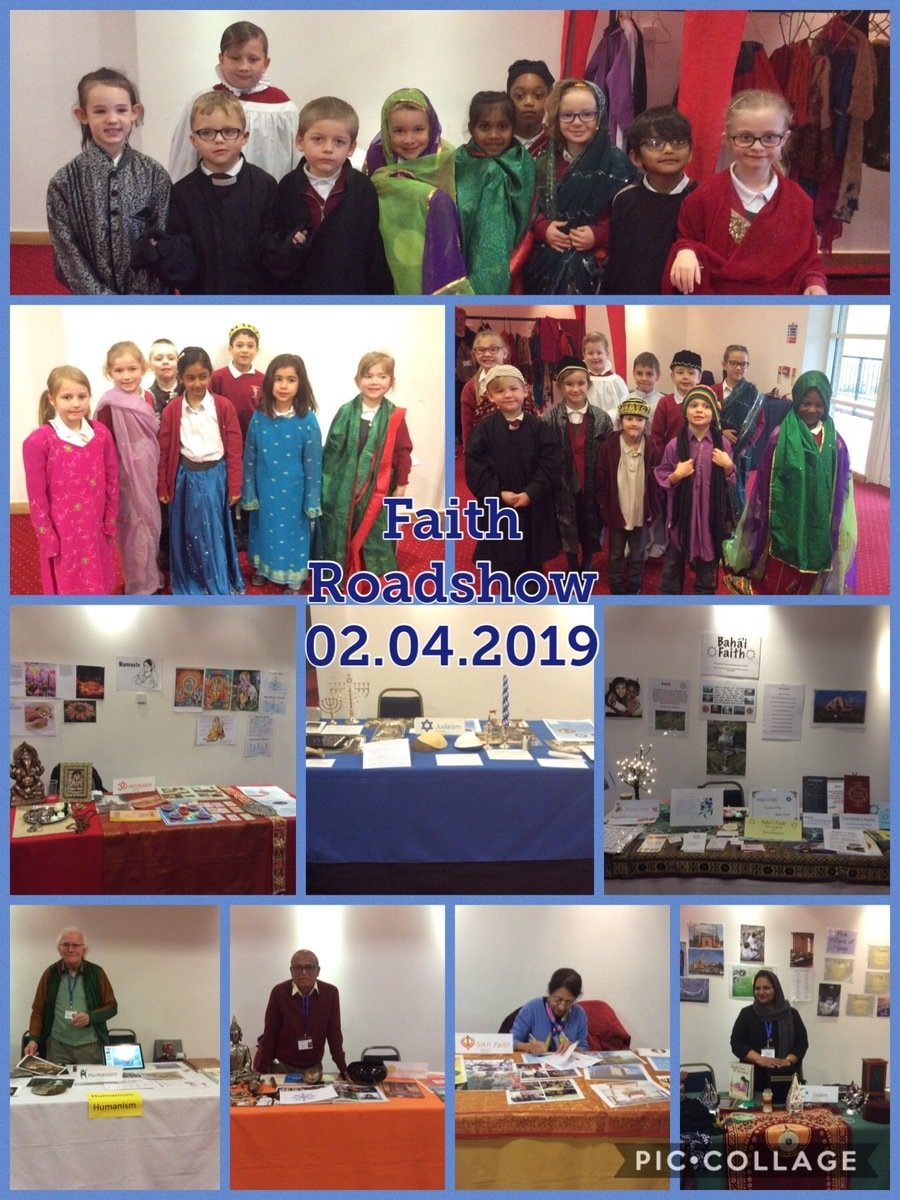 DT day, making castles 28th March 2019
During our castles topic we have explored a variety of DT skills such as interlocking, strengthening, stabilising and scoring. We designed our own castles, that would be strong enough to withstand an attack and identified the skills we would use and the resources we would need. They look amazing!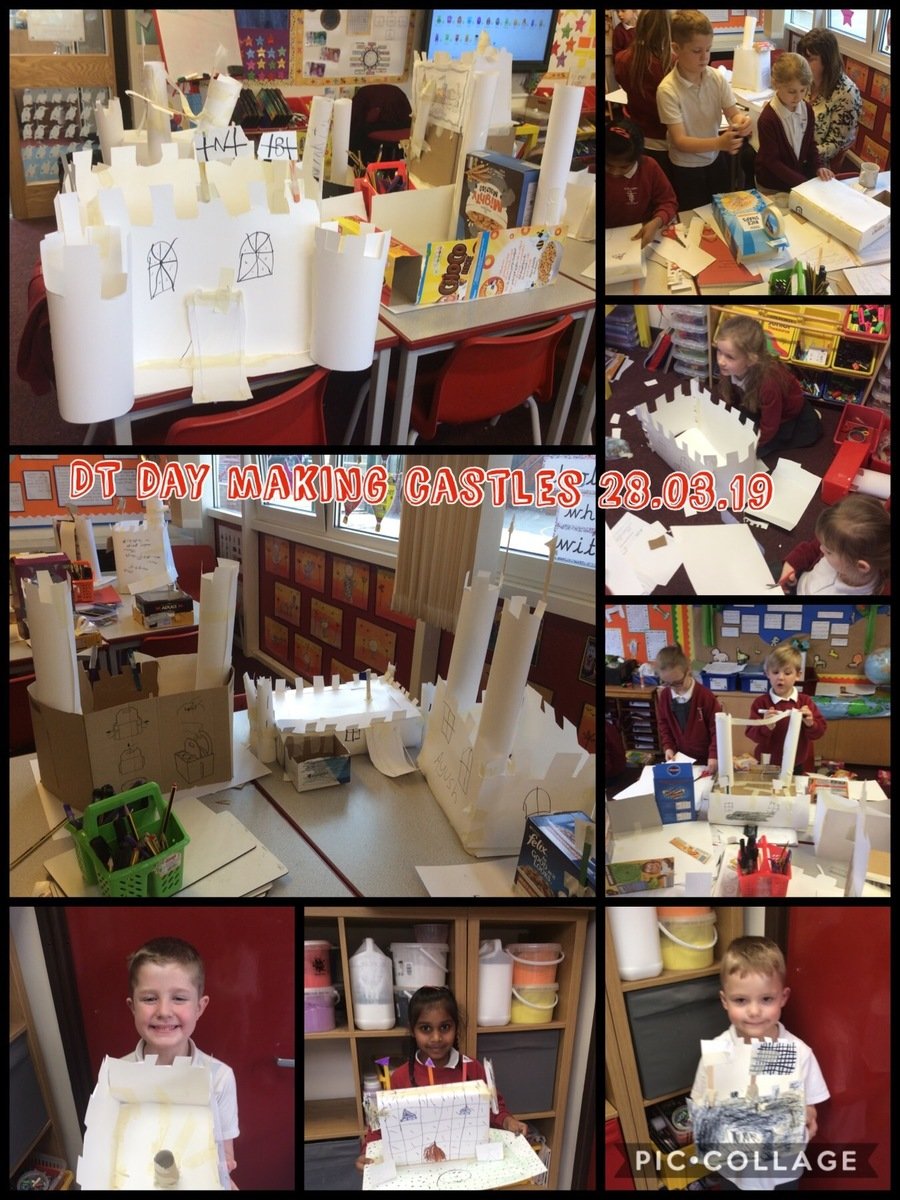 Experience Easter 25th March 2019
We visited St Barnabas church to experience Easter with Reverend Ray and the other volunteers. We spent time at each station learning about the events that led up to Easter and why it is such an important event in the Christian calendar.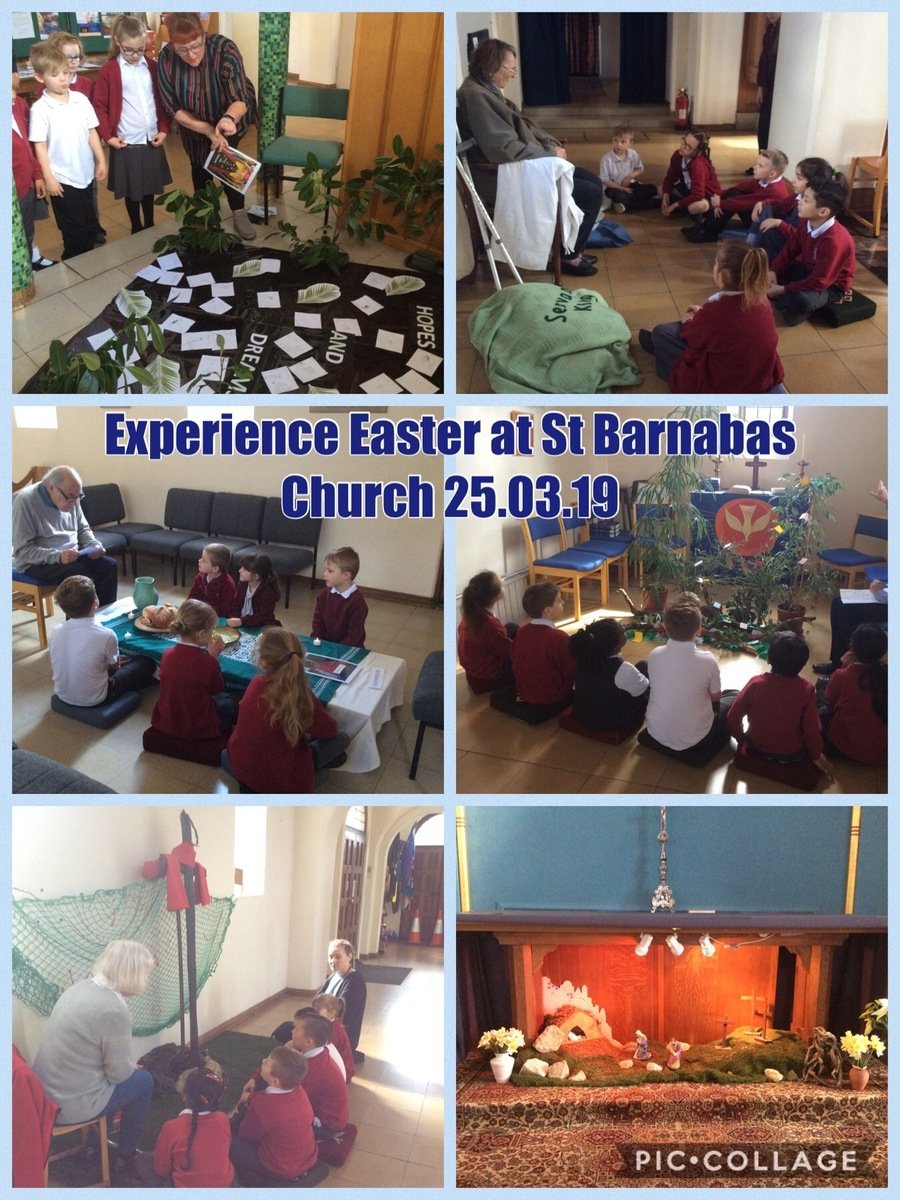 Sunita Prasad told us the story of Holi. We looked at artefacts, did finger and hand painting and then used straws to splash liquid paint onto white cloth. How colourful it all looked!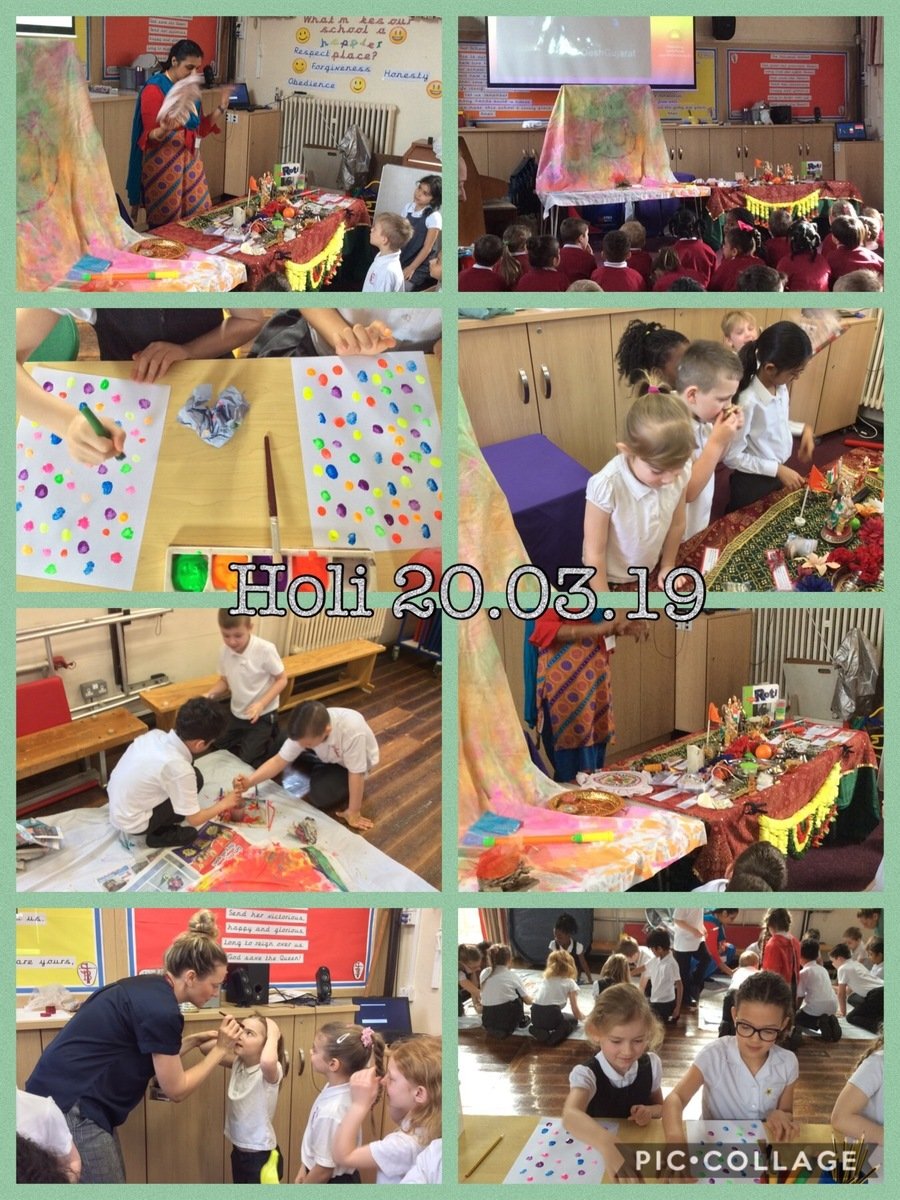 World Book Day 7th March 2019
We all came to school wearing a T-shirt that we had decorated with our favourite book characters and quotes, we looked amazing! The day started with some of us sharing a book with our parents, then as part of our assembly the teachers shared a page from their favourite book. During the day we completed word searches, designed book marks and wrote a book review. To end our day we shared a story with our friends in year 1.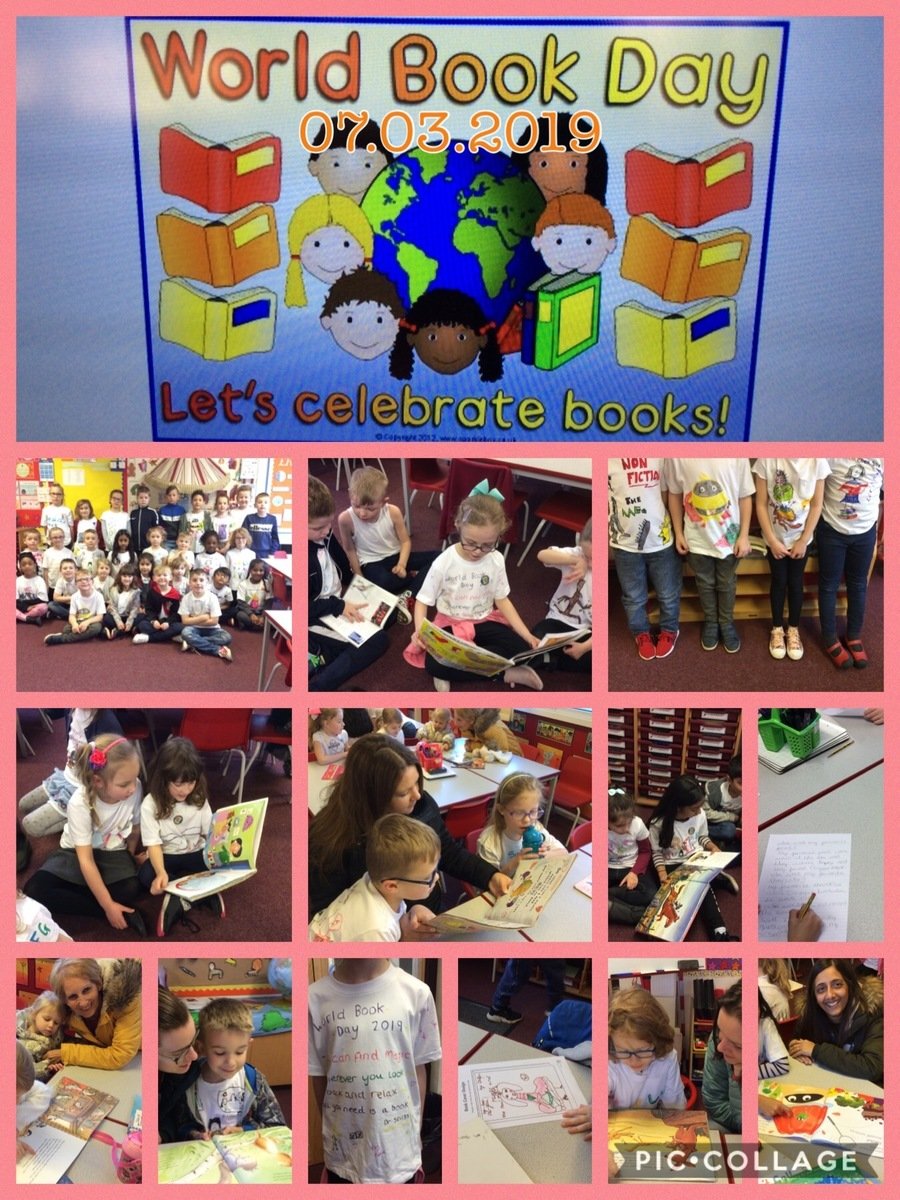 Warwick Castle Trip 27th February 2019
To start our castles topic we visited Warwick Castle on a lovely, warm sunny day in February!! We climbed the spiral staircase to walk along the Ramparts, went to the top of the Mound, explored the Great Hall, visited the Gaol and almost got stuck in the Maze!! What a great day we all had!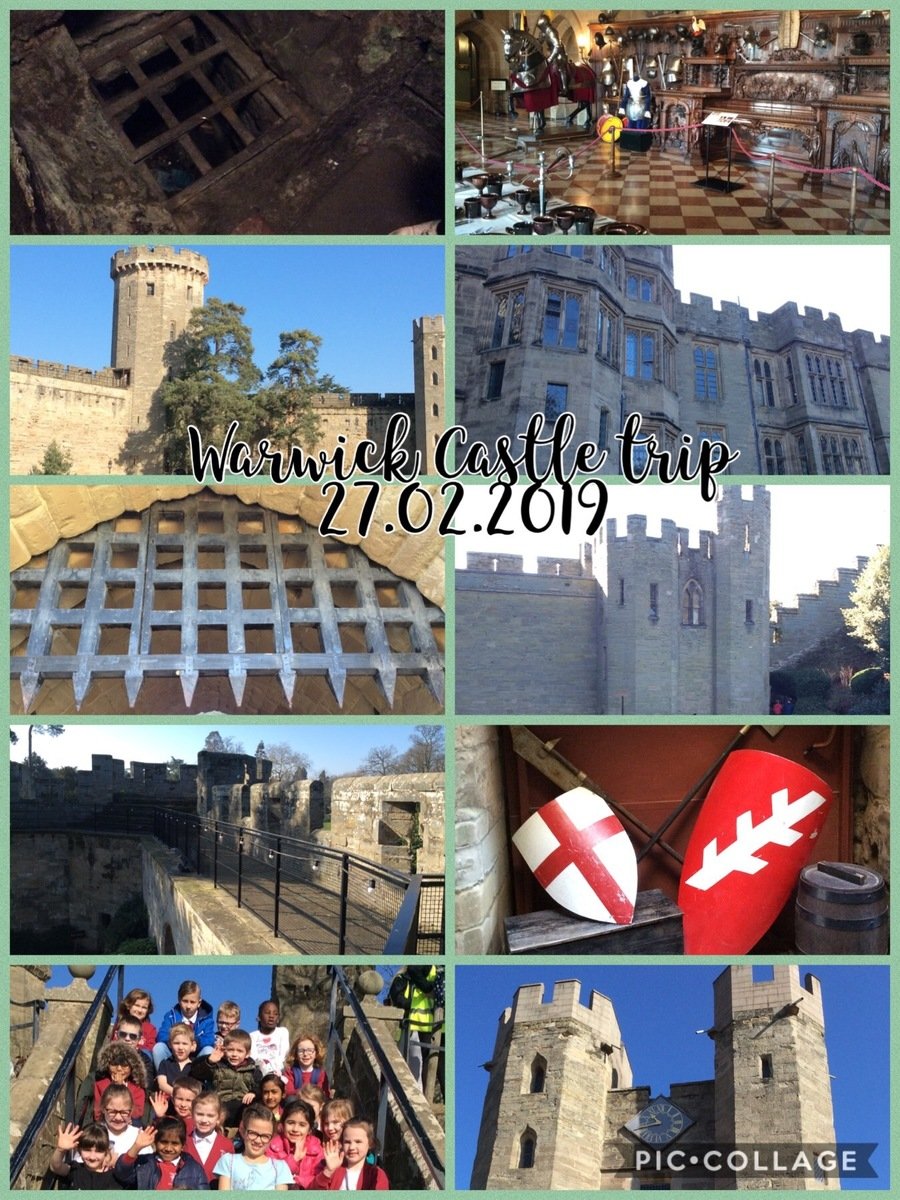 Mental Health Awareness Day 15th February 2019
Everyone can see if you have a broken arm but if you are feeling confused or alone people can't read your mind. We discussed the importance of talking out loud and identified times when we had felt stressed, sad, angry, alone or worried. Then we thought about how we could cope with these feelings. At the end of the session we gathered together to blow bubbles to release our worries in a calm way.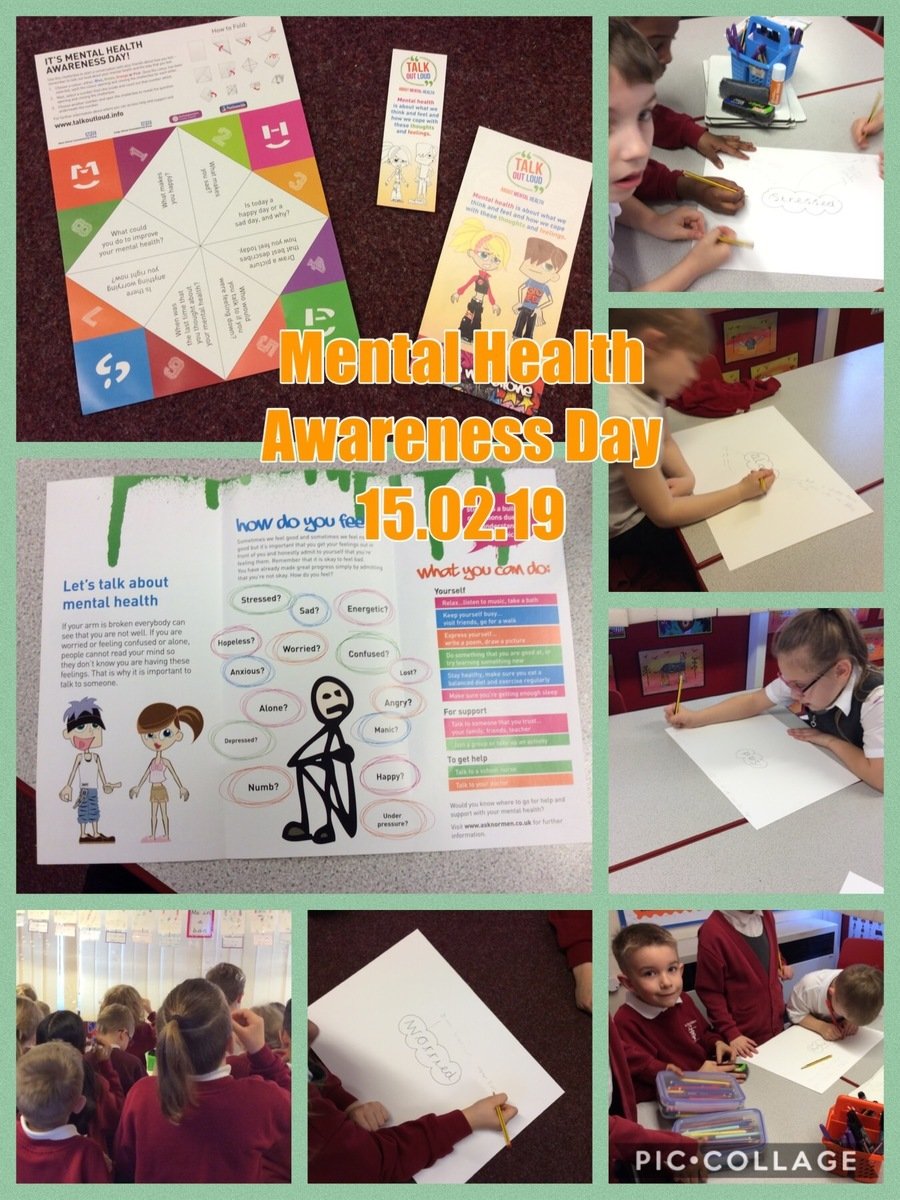 In Art we watched A Spider Weaver and looked at Kente Cloths which are popular in Africa. Using coloured strips of paper we created our own Kente Cloths. Continuing to use the under, over weaving technique we chose a variety of different fabrics and wove them onto a cardboard loom. They all look amazing!
Recycling Day 15th January 2019
We were very lucky to have visit from Joanne Atherton, an artist who creates pieces using items of plastic, washed up on shore, that she collects from various beaches. She showed us some of her incredible artwork, then we were all given a piece of clay which we rolled, used plastic items to decorate and finally cut into shapes. When the clay is dry we will paint the clay tiles and create a whole school piece of artwork. We can't wait to see the finished piece. In addition to working with Jo we also researched the importance of recycling, which bin is for which rubbish and designed recycling posters.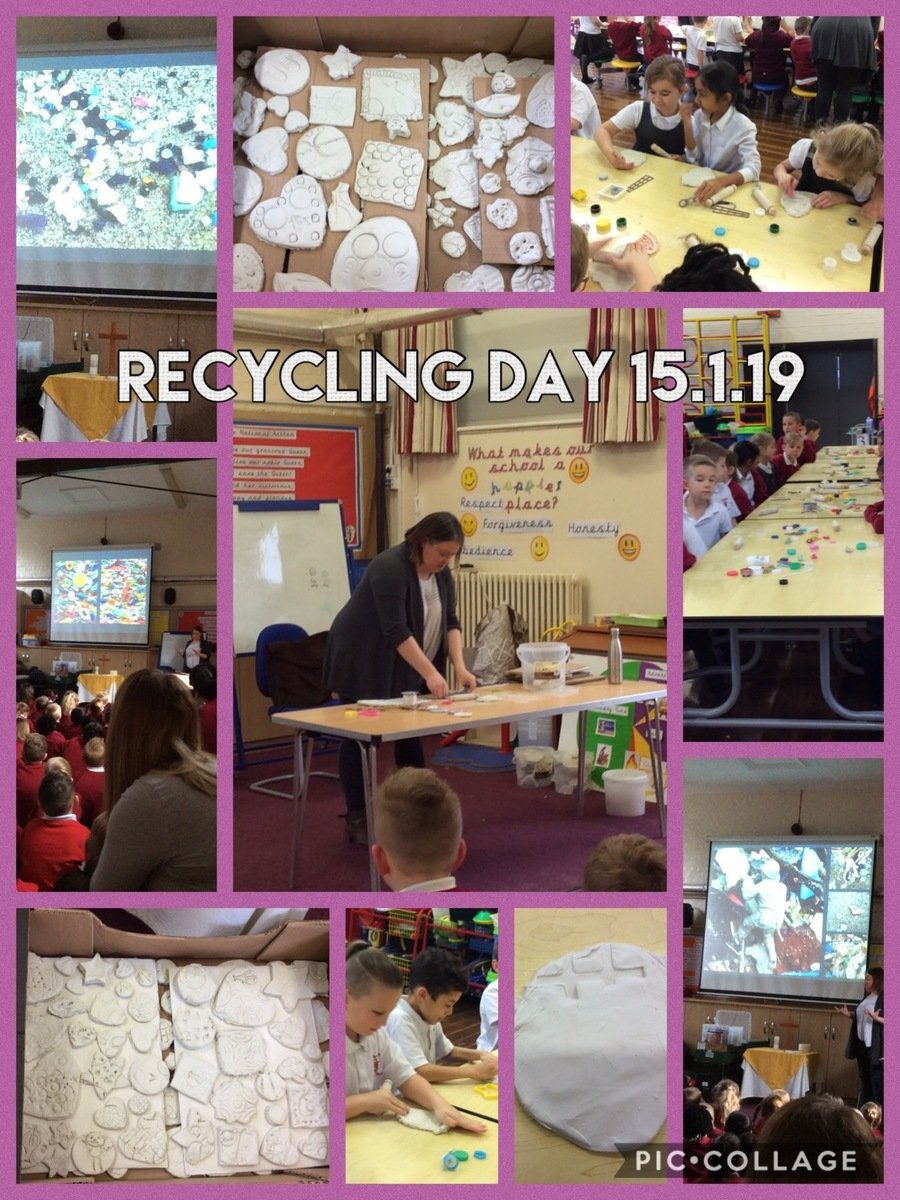 Our topic for the second term was The Great Fire of London. We learnt that it started on Sunday 2nd September 1666 in a bakery on Pudding Lane. We wrote diary entries and newspaper reports. To finish the topic we had a WOW day where we made our own bread and recreated The Great Fire of London on the playground.
As part of RE we visited two churches in our local area, United Reformed Church and St Marks. We thought about why people would visit the church and compared them thinking about similarities and differences. Thank you to Father Ben and Susan Scott for sparing time to talk to us.
Celebrating 100 years since the end of WW1
We celebrated 100 years since the end of WW1 during the week 5th-9th November. We learnt about life in the trenches, created poppies, collaged the flags of the countries involved, wrote poems, created silhouette soldier pictures and many other activities.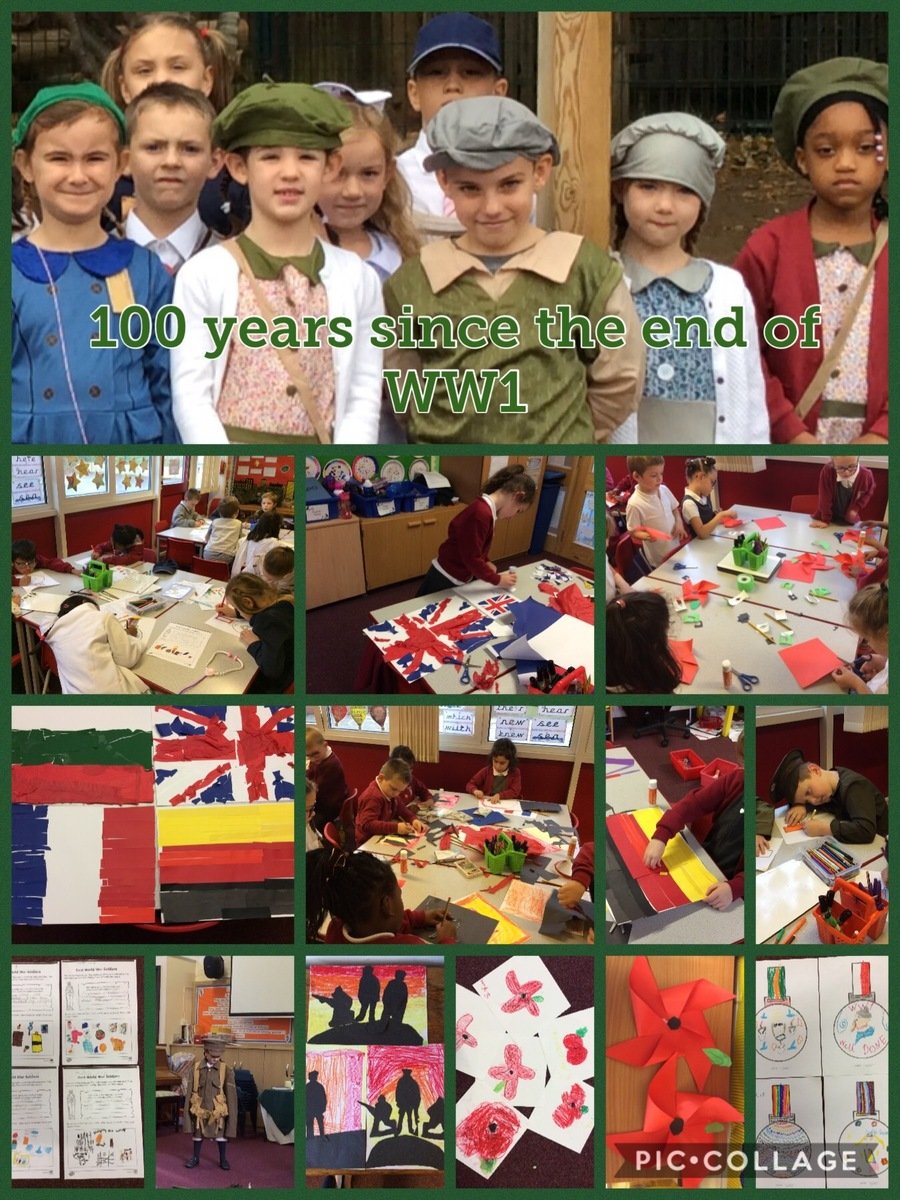 Superhero dressing up day 19th October 2018
To finish our topic we had a superhero dressing up day. We wrote our own superhero story, designed outfits for a superhero and built Superhero Headquarters using different construction. We looked great and had a fun day.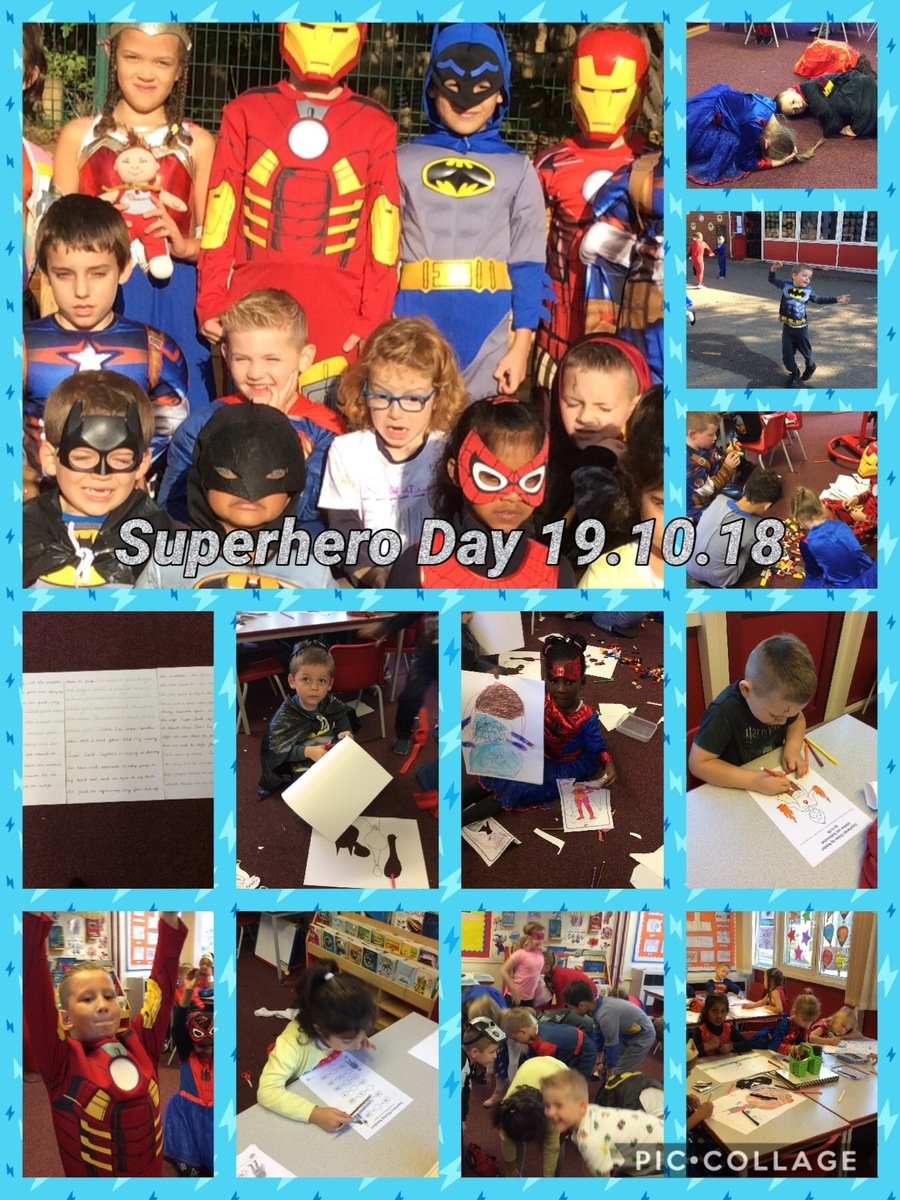 Instruction writing and making pizzas
In English we wrote instructions and followed them to make delicious pizzas. Using our knowledge of food groups, which we learnt in Science we tried to make sure our pizza was a balanced meal by choosing a food from each group.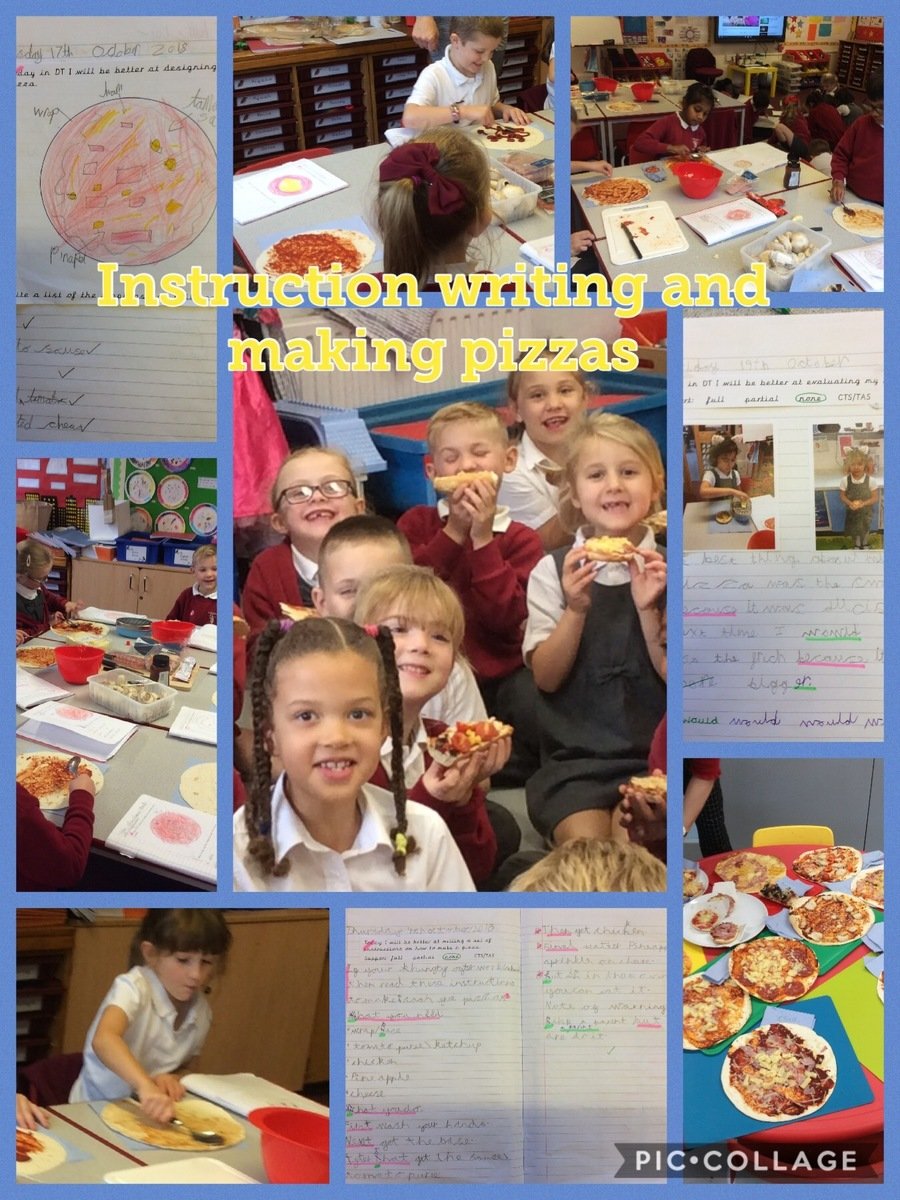 Supertato by Sue Hendra & Paul Linnet
Our topic for the first term was Superheroes. We read the story of Supertato and made our very own Supertato to take home.